Twitter Eviscerates Fiorina on Gun Control During #CarlyLive Social Media Forum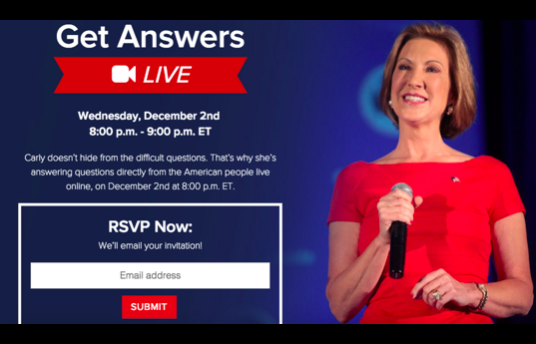 Presidential candidate Carly Fiorina participated in a town hall Wednesday, inviting people to tweet her questions with the hashtag #carlylive.
The forum came as a massive manhunt in California continued for suspects involved in the San Bernardino mass shooting that killed 14 people and injured 17. Last week, police arrested Robert Dear, who opened fire at a Planned Parenthood clinic in Colorado, killing three people — including an officer. Dear reportedly said "no more baby parts" as police led him away.
Considering the ongoing climate in California and around the country, many people questioned whether it was an appropriate time for Fiorina to live tweet a town hall forum. In typical Twitter fashion, users took vigilante journalism in their own hands and hijacked the hashtag to ask Fiorina pressing questions about gun control, domestic terrorism, and violence agains women. Here were some of the top posts:
@CarlyFiorina What will you do to stop mass shootings in America? #CarlyLive

— Sean Mulvihill (@MessEnScene) December 3, 2015
@CarlyFiorina Is opposing gun control worth the human loss that occurs daily? After all, you claim to be pro-life. #CarlyLive

— Sean Mulvihill (@MessEnScene) December 3, 2015
Do you favor calling mass shootings "domestic terrorism" or "Second Amendment Freedom Parties," CarlyFiorina? #CarlyLive — Scott Wooledge (@Clarknt67) December 3, 2015
@CarlyFiorina @ladyliberty1215 Carly would you be okay if I shot my student debt with an AR-15? — Reid Valgo (@reidvalgo) December 3, 2015
@CarlyFiorina why did it take the republican candidates including yourself so long to react to the #PlannedParenthood shooting? #CarlyLive — 24SEVAN (@EvanSeven) November 30, 2015
@CarlyFiorina @twitter hi Carly! my question is, how does it feel to have so much blood on your hands? presidential? #CarlyLive — wjn3tweets (@wjn3tweets) December 3, 2015
@CarlyFiorina Quick! You're in a room with no key, a chair, two paper clips, and a lightbulb. How do you best screw over women? #CarlyLive — Patrick (@Patrickesque) December 3, 2015
Fiorina has yet to address the San Bernardino shooting on social media, though she was forced to confront the issue on several morning shows Thursday. On Sunday, she told Fox News it was wrong to connect the Planned Parenthood shooting with pro-life activism, insisting "this is so typical of the left to immediately begin demonizing a messenger because they don't agree with the message."
[Image via screengrab]
—
>> Follow Elizabeth Preza on Twitter (@lizacisms)
Have a tip we should know? tips@mediaite.com