Twitter Eviscerates Trump For Weighing in on Franken: 'You Should Probably Just Shut the Hell Up'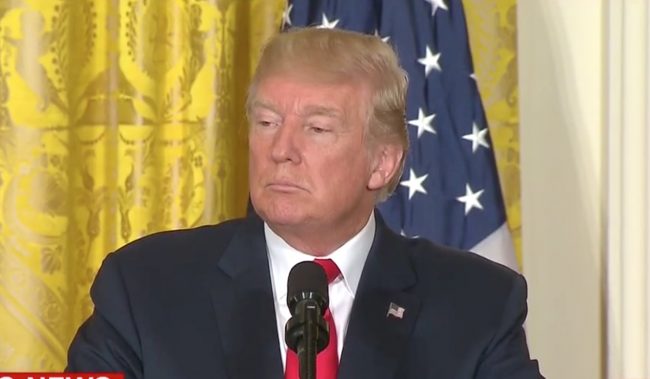 President Donald Trump just couldn't help himself.
After a prolonged silence on accusations of teen sex abuse against Alabama Senate candidate Roy Moore, POTUS was unable to resist weighing in on misconduct allegations against Sen. Al Franken (D-MN).
"The Al Frankenstien [sic] picture is really bad, speaks a thousand words. Where do his hands go in pictures 2, 3, 4, 5 & 6 while she sleeps? ….." Trump wrote.
Of course, Twitter seized on the fact that Trump himself has faced a number of on-the-record sexual misconduct allegations. Here is a sampling of the reaction on social media:
It's been a week since the 1st allegations surfaced against Roy Moore. Silence from Trump.

It's been about 12 hours since the Franken allegations. Trump has tweeted twice. https://t.co/uqFcQ1kMUh

— Kyle Griffin (@kylegriffin1) November 17, 2017
Trump comments on the Al Franken allegations the same day they are published. It's been over a week since the Roy Moore news broke, but nothing on that front. https://t.co/V1VAXXbkli

— Kaitlan Collins (@kaitlancollins) November 17, 2017
We need ethics investigations into alleged sexual misconduct of all elected officials. 20+ women have come forward about the president. https://t.co/zkkQ8Pe9Bz

— Lauren Duca (@laurenduca) November 17, 2017
you have to really not trust autocorrect to get "Frankenstien" out

— Ashley Feinberg (@ashleyfeinberg) November 17, 2017
Trump is so mad about Al Franken that while he was tweeting about him, he walked into a Miss Teen USA dressing room by accident.

— Tony Posnanski (@tonyposnanski) November 17, 2017
Trump has more than a dozen, on-the-record, allegations of sexual assault against him, and was caught on tape bragging about committing sexual assault. This is a dangerous game for him to play. https://t.co/seUnYcBuhU

— Ezra Klein (@ezraklein) November 17, 2017
i'm glad Trump couldn't resist on Franken. that puts him front and center.

bring back the 22 women who have accused him of assault. they deserve the spotlight.

— Eric Boehlert (@EricBoehlert) November 17, 2017
The official White House position on all 16 women who accused Donald Trump of sexual assault is that they are all liars.

— Clara Jeffery (@ClaraJeffery) November 17, 2017
Seeing a serial sexual abuser like Trump tweeting this bullshit makes me sick to my stomach. I can only imagine what it must feel like for women who've been through experiences like Trump inflicted on so many.

— John Iadarola (@johniadarola) November 17, 2017
Donald Trump is now attacking a politician for making crude remarks about a woman (and saying they were on a tape too) https://t.co/pYdmWbGZHg

— Ben Jacobs (@Bencjacobs) November 17, 2017
One of the things Trump does is act as if nothing he has said or done in the past is at all relevant to his words and actions in the present. It's beyond hypocrisy, it's like malicious amnesia.

— Daniel Dale (@ddale8) November 17, 2017
You should probably just shut the hell up about this topic – you know, being an accused rapist and confessed sexual predator and all. https://t.co/P03aOlUxRM

— Reza Aslan (@rezaaslan) November 17, 2017
When God was giving out shame, Trump was clearly busy, probably out somewhere grabbing pussy… https://t.co/jM3t1ZEKxr

— John Ziegler (@Zigmanfreud) November 17, 2017
Franken has standing to accuse himself and has done so. Trump has no standing to accuse anyone BUT himself and isn't man enough to do even that. A disgusting hypocrite. Who can't even spell Frankenstein. https://t.co/QQpfwCGnVj

— Laurence Tribe (@tribelaw) November 17, 2017
Donald Trump can be this brazen & hypocritical because he knows that his Republican colleagues won't meaningfully hold him accountable.

— Sarah Lerner (@SarahLerner) November 17, 2017
Trump on Franken: Pot discusses sins of the kettle.

— Stephen King (@StephenKing) November 17, 2017
Who's up for a weeklong media recap of all the sexual harassment/assault allegations against Trump? Because that's what Trump just opened up.

— Ben Shapiro (@benshapiro) November 17, 2017
[image via screengrab]
——
Follow Joe DePaolo (@joe_depaolo) on Twitter
Have a tip we should know? [email protected]
Joe DePaolo - Senior Editor