Twitter Has Lots of 'Overrated' Jokes in Response to Meryl Streep's Record-Breaking 20th Oscar Nomination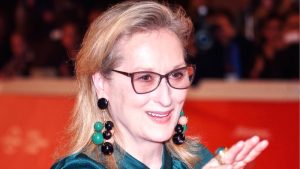 Today, Meryl Streep was nominated for her 20th Academy Award for Florence Foster Jenkins, breaking her own record for most nominations of all time. Just a few weeks ago, Streep won a lifetime achievement award at the Golden Globes and used her time onstage to deliver a blistering anti-Donald Trump speech, prompting our thin-skinned Commander in Chief to call her "overrated" on Twitter.
Streep responded to her own nomination with a gif. Others are responding to her nomination by taking to Twitter to talk about just how "overrated" the 20-time nominee and three-time winner actually is.
#MerylStreep leading record by receiving her 20th nomination. Overrated???! Nope!. ?#OscarNoms cc @POTUS pic.twitter.com/rssr36WP57

— MollyChiGirl (@ChiGirlMolly) January 24, 2017
Today Meryl Streep became the first performer ever to receive 20 #OscarNoms. You know, just weeks after Donny called her overrated pic.twitter.com/ZWOKCpkZd6

— Special Snowflake ❄️ (@cara_kula) January 24, 2017
Who's #overrated now? Certainly not #MerylStreep. 20th #OscarNomination. You're wrong about her @POTUS. Wrong about many things.SAD!

— Putu Chris S (@pchrissusanto) January 24, 2017
Can't believe Hollywood gave overrated #MerylStreep an unpresidented 20th #OscarNoms. She'll lose bigly, that I can tell you. #Sad.

— Craig Hoffman (@CMHoffman) January 24, 2017
.@realDonaldTrump Can you believe the Academy overrated Meryl Streep for the 20th time?? Sad!

— (((Joshua Malina))) (@JoshMalina) January 24, 2017
"One of the most overrated actresses in Hollywood" Meryl Streep, has received her 20th Oscar Nomination, breaking her own record. pic.twitter.com/DD6td0xXxo

— ℒouis G.? (@LouisGaudencio) January 24, 2017
Can't believe overrated actress Meryl Streep was nominated for her 20th Oscar today, breaking her own record.

— Robbie Rozelle (@divarobbie) January 24, 2017
#OscarNoms are out, Meryl Streep BROKE HER OWN RECORD, hving 20 #Oscars nom now. As #AlternativeFacts, @POTUS still thinks she's over-rated. pic.twitter.com/dQX5pL3cad

— #AdamWithAhok (@Muh_Sadam) January 24, 2017
Congratulations to Meryl Streep on earning her 20th Oscar nomination despite being overrated according to a raving moron.

— Scott Weinberg (@scottEweinberg) January 24, 2017
Hey @realDonaldTrump that overrated actress #MerylStreep just got her 20th #OscarNoms.

— Kon Karapanagiotidis (@Kon__K) January 24, 2017
If Trump was tweeting: Meryl Streep received her 20th Oscar nomination today. She didn't win 16 times in the past. #Loser

— Mark Campbell (@MarkBoogieman) January 24, 2017
@MerylStreepPage @LaChavesCarbia Meryl Streep was nominated for the 20th time for an Oscar!????Whos is overrated now Mr.Trump?????

— William Rodriguez (@willieseconpr) January 24, 2017
Trump: Meryl Streep is overrated.

Meryl: *gets 20th Oscar nomination* pic.twitter.com/jBdrP6LEO5

— Jᴜʟᴇs. ✨ (@deepbIuesea_) January 24, 2017
trump: meryl streep is overrated

the academy: I don't think so#oscars

— helvinho (@HelvinhoMaciel) January 24, 2017
Over rated actress Meryl Streep (according to famous reality TV star) gets record 20th Oscar nomination

— Doug MacLeod (@dougmacleodCAN) January 24, 2017
[featured image via Polifoto / Shutterstock, Inc.]
Have a tip we should know? tips@mediaite.com