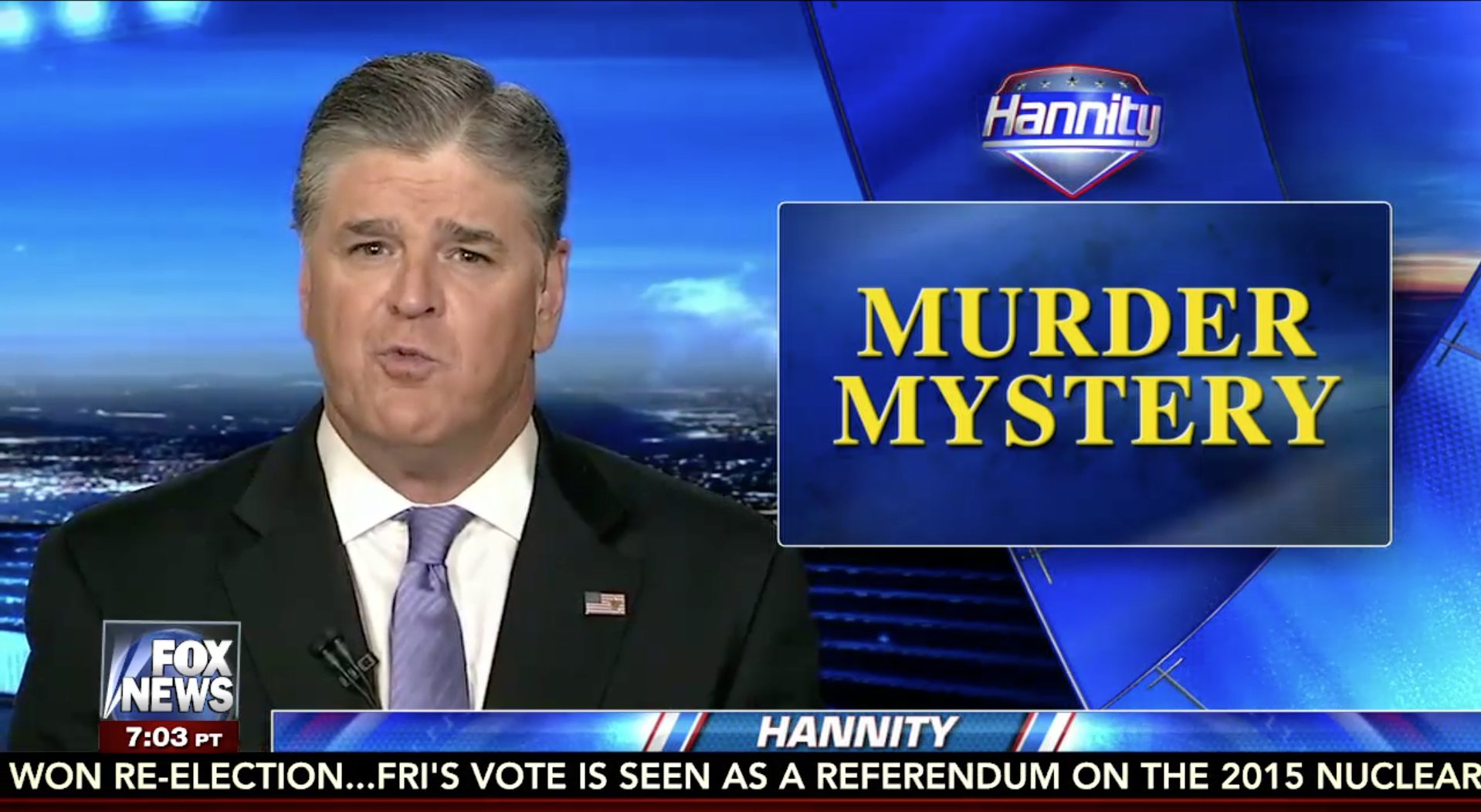 Sean Hannity took to Twitter Thursday to criticize the media for negative coverage of former Fox News head Roger Ailes, who died Thursday morning.
It would be nice if the media would leave Roger and his family alone in their time of grief, but knowing people that hated him https://t.co/WQeJoD8pGi

— Sean Hannity (@seanhannity) May 18, 2017
Of course, as a number of insightful Twitter users have pointed out, Hannity's cries for decency come just two days after he led his primetime show with a debunked and widely derided conspiracy theory that DNC staffer Seth Rich was murdered because of supposed links to Wikileaks.
Rich was shot and killed in what police believe was a botched robbery in Washington D.C. last summer. Rich's death has been the subject of much scrutiny from right-wing conspiracy theorists who believe the Clintons had the staffer killed after he passed DNC emails on to Wikileaks.
Rich's death received renewed attention Monday in the wake of a Fox 5 report in which Rod Wheeler, a private investigator hired by Rich's family and funded by a wealthy Breitbart contributor, claimed to have evidence of communication between Rich and Wikileaks before his death.
The report sparked a firestorm of speculation amongst right-wing conspiracy theorists online, and was widely covered by conservative media outlets like Breitbart and Fox News — often overshadowing coverage of the explosive reports that President Donald Trump disclosed classified information to senior Russian officials.
But then the story fell apart. Wheeler, who also happens to be a Fox News contributor, confessed Tuesday afternoon that he had no evidence of contact between Rich and Wikileaks. In comments provided to CNN, Wheeler said he "was referring to information that had already been reported in the media."
Per CNN, a FoxNews.com story also cited a "federal source" who claimed the FBI had found thousands of emails between Rich and Wikileaks on Rich's computer. But a law enforcement official told CNN that Rich's computer was never given to the FBI.
These revelations, however, did not stop Hannity from using the completely debunked story to distract from a news cycle damaging to Trump in his Tuesday night episode.
A spokesman for Rich's family slammed conservative outlets for trying to "manipulate the legacy of a murder victim in order to forward their own political agenda," adding "there is a special place in hell for people" reporting on the story.
The family has asked for a retraction of the story from Fox 5 and Fox News, claiming the outlets' inaccurate reporting is "damaging the legacy of their son." As of Thursday afternoon, neither outlet has issued a retraction or apology, and Hannity remains mum.
[image via screengrab]
—
Follow Aidan McLaughlin (@aidnmclaughlin) on Twitter
Have a tip we should know? tips@mediaite.com
Aidan McLaughlin - Editor in Chief