Twitter Reacts With Scorn to Gowdy Announcement: 'Can't Investigate Benghazi 3,821 More Times'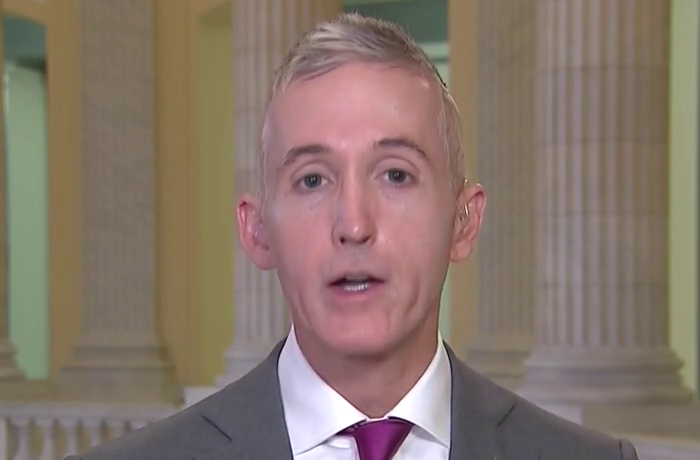 Rep. Trey Gowdy (R-SC) announced today that he will not seek re-election at the end of this term, which coincides with the 2018 midterm election, opening up another seat for a possible Democratic pickup.
This news comes as quite a surprise because, in stark to contrast to someone like Sen. Jeff Flake (R-AZ), Gowdy, by all accounts, could have easily won a re-election campaign.
Gowdy said he is retiring from Congress to return to the "justice system," though details are scant.
"There is a time to come and a time to go. This is the right time, for me, to leave politics and return to the justice system," he wrote in a statement. "Whatever skills I may have are better utilized in a courtroom than in Congress, and I enjoy our justice system more than our political system."
Where, there you have it. He just loves the justice system. Gowdy's statement does not mention a difficult working relationship with President Donald Trump or anyone else in the Republican-controlled House or Senate, which is to be expected.
Also to be expected? Twitter piling on the retiring Congressman, particularly in light of his past attempts to keep the Benghazi investigation running years after its expiration date. Oh yeah, there were also a whole lot of bad hair jokes.
BREAKING: Trey Gowdy is retiring/resigning in disgrace!

REPEAT

Trey Gowdy is retiring!

I wonder if it has to do with the fact he took bribes from anti-Hillary groups while leading the Benghazi witch hunt. Or the Cmte's money that he used as a personal piggy bank. Adios, Gowdy.

— Scott Dworkin (@funder) January 31, 2018
Trey Gowdy's wife yelling at him for not cleaning out the Benghazi Room

— Patrick Monahan (@pattymo) January 31, 2018
Not surprised Trey Gowdy is quitting. Now that he can't investigate Benghazi 3,821 more times, there's really nothing left for him.

— Sally Kohn (@sallykohn) January 31, 2018
Trey significant! The legion of Republican retirements—Gowdy being the latest—speaks volumes about the party's prospects in the midterms this fall.https://t.co/nYexSqKzlO

— David Axelrod (@davidaxelrod) January 31, 2018
Trey Gowdy is quitting congress to become the spokesmodel for America's worst barbershop. pic.twitter.com/NoffphvgXd

— Christian Finnegan (@ChristFinnegan) January 31, 2018
Trey Gowdy resigns, expected to head up anti-mudblood think tank at Slytherin house

— Oliver Willis (@owillis) January 31, 2018
I'm so confused. Why are all these Republicans retiring if they've got Democrats on the run with their wildly popular tax cut that has single-handedly ushered in our economic Golden Age? https://t.co/6eDzkiGFnd

— Jon Favreau (@jonfavs) January 31, 2018
I can't imagine anyone less suitable for judicial service than a professional opposition researcher like Trey Gowdy. https://t.co/xzCR0JeFzk

— Ian Millhiser (@imillhiser) January 31, 2018
Trey Gowdy is retiring to dedicate himself full-time to his search for a barber that doesn't hate him pic.twitter.com/PFcfAXtax4

— Jason O. Gilbert (@gilbertjasono) January 31, 2018
This may explain why Gowdy turned suddenly sane — kinda — in the last few weeks. https://t.co/v3WzpLy9U8

— John Aravosis (@aravosis) January 31, 2018
Bye
E
N
Gowdy
H
A
Z
I https://t.co/J0gAnq8fKa

— Brian Beutler (@brianbeutler) January 31, 2018
One colleague, however, urged on Twitter for Gowdy to reconsider his resignation.
Some friends of Trey Gowdy need talk him out of retiring. America needs a smart forceful congressman like him

— ChuckGrassley (@ChuckGrassley) January 31, 2018
Gowdy's forthcoming departure makes 36 Republicans leaving the House at the end of their terms, which amounts to one in six members.
[image via screenshot]
—
Follow Lawrence Bonk (@sidescrollers) on Twitter
Have a tip we should know? [email protected]