Media Twitter Rips Wolff for Horrible Nikki Haley Claim: 'Remove My Name for the Next Edition'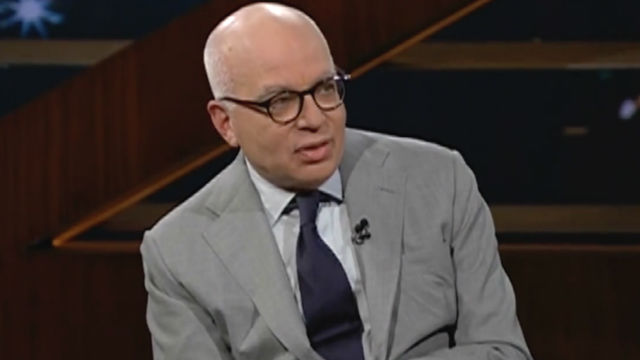 Fire and Fury author Michael Wolff is getting smashed on Twitter from all sides about an egregious claim he made about UN Ambassador Nikki Haley.
In an interview with theSkimm, Wolff claimed that Haley "seems to have embraced" rumors about her having an affair with President Donald Trump.
Wolff spoke to Bill Maher earlier this month about a potential current affair that Trump is having, leading some to speculate that it might be Haley.
Haley has repeatedly and forcefully denied these allegations, which Wolff asserted makes them even more plausible.
"All she does is hammer on this fact," Wolff said. "I mean, if I were being accused of something, and I am not accusing her of anything. She hasn't tried to avoid this…"
Twitter was not amused and proceeded to excoriate Wolff for his words:
Hey @MichaelWolffNYC: it must be fun to write and say whatever you want under the banner of "non-fiction," with zero fact-checking or basic decency. I have no idea why you put me in your author acknowledgments but please remove my name for the next edition. https://t.co/fNkqff4IeY

— Jonathan Swan (@jonathanvswan) January 31, 2018
Michael Wolff is playing off of innuendo to make unsubstantiated charges — and, when confronted, pawns it off on someone else. Sound familiar? https://t.co/EfDakJjAO9

— Matt Viser (@mviser) January 31, 2018
If you were wondering, "Is Michael Wolff capable of shame?" here is the answer. https://t.co/mLiOBob9qA

— S.E. Cupp (@secupp) January 31, 2018
A particularly unseemly variation of "she asked for it," in which a woman's act of publicly standing up for herself is labeled as "embracing" unproven gossip about her https://t.co/EVlyoWqLDf

— Cathleen Decker (@cathleendecker) January 31, 2018
Michael Wolff is a scumbag. https://t.co/P1jZJ0kzeH

— Jeet Heer (@HeerJeet) January 31, 2018
At this point, it seems Michael Wolff is the one in need of a psychiatric exam. https://t.co/wsOmYnARUV

— Gabby Morrongiello (@gabriellahope_) January 31, 2018
What a slime. Have we not gotten past this sick @nikkihaley thing yet? https://t.co/ClAXnrYBDI

— David Martosko (@dmartosko) January 31, 2018
This is so vile. https://t.co/HO15arbNYP

— Jake Tapper (@jaketapper) January 31, 2018
What a garbage human being https://t.co/9v2jPohUbA

— Seth Mandel (@SethAMandel) January 31, 2018
Why does anyone take Wolff seriously anymore? https://t.co/Q9XoWeIHLz

— Josh Kraushaar (@HotlineJosh) January 31, 2018
This guy is a real piece of work. https://t.co/IKcpYJJntR

— Jeff B. (@EsotericCD) January 31, 2018
No, Michael Wolff, it was not fun for Nikki Haley to have to deny the sexist and unfounded rumors you floated that she was having an affair with her boss, the President of the United States. https://t.co/WYo61xZsB8

— Elise Jordan (@Elise_Jordan) January 31, 2018
BREAKING: Micheal Wolff peddles innuendo, should not be trusted, and his book should be treated accordingly https://t.co/RPytyFlQfQ

— Aaron Blake (@AaronBlake) January 31, 2018
Michael Wolff needs attention like the rest of us need air. https://t.co/UpOvxzvfxi

— Brooke Rogers ? (@bkerogers) January 31, 2018
Wolff peddling this Haley-Trump affair rumor on HBO, then half-heartedly blaming other reporters, now saying Haley "embraced" a rumor she called disgusting and untrue…this guy really is a little dirtbag

— David Rutz (@DavidRutz) January 31, 2018
Even Dictionary.com slammed Wolff:
Rumor. A story or statement in general circulation without confirmation or certainty as to facts. #NikkiHaleyhttps://t.co/rVlr0QCT8j https://t.co/oA0cpsNf4X

— Dictionary.com (@Dictionarycom) January 31, 2018
[image via screengrab]
Have a tip we should know? tips@mediaite.com