Twitter Rips Trump for Reprising 'Enemy of the People' Attacks on Media: 'Shame on Him'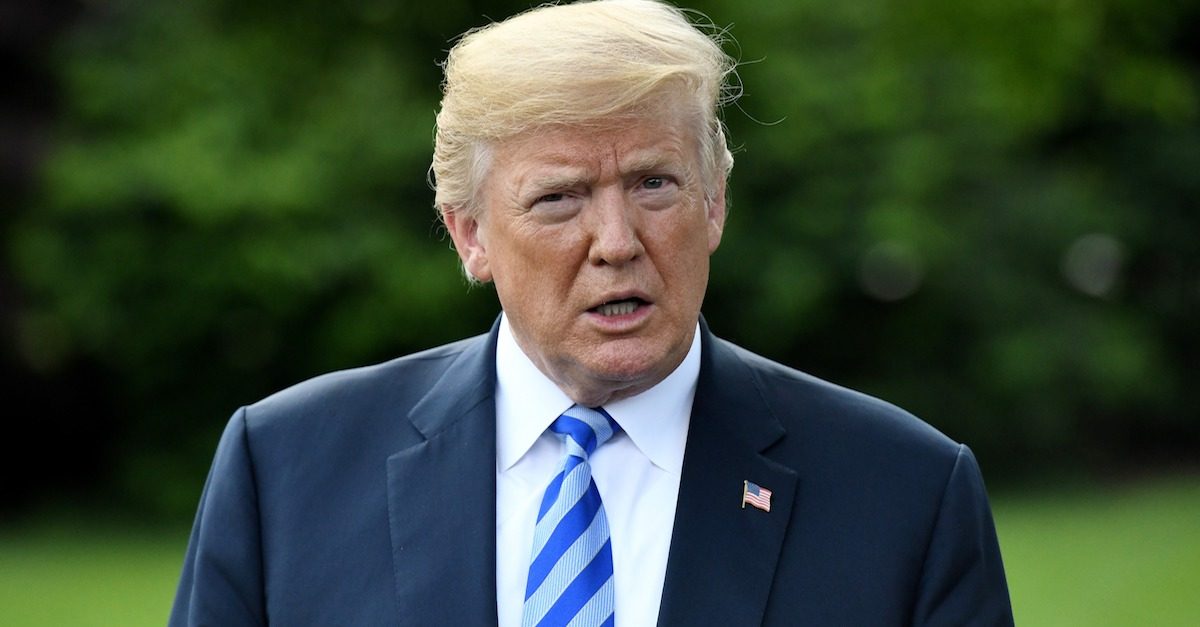 Since the mail bombs were sent to prominent Democrats and CNN last week, President Donald Trump has made repeated calls for civility. But those very calls have been bookended by repeated attacks on the media at his rallies and in his tweets.
That all culminated in a tweet today in which Trump reprised his highly controversial "enemy of the people" attack on the media today.
There is great anger in our Country caused in part by inaccurate, and even fraudulent, reporting of the news. The Fake News Media, the true Enemy of the People, must stop the open & obvious hostility & report the news accurately & fairly. That will do much to put out the flame…

— Donald J. Trump (@realDonaldTrump) October 29, 2018
….of Anger and Outrage and we will then be able to bring all sides together in Peace and Harmony. Fake News Must End!

— Donald J. Trump (@realDonaldTrump) October 29, 2018
Just to reiterate, in his call for civility the president also called news networks he doesn't like the "enemy of the people."
And Twitter criticized him for trotting this out again:
The bombing suspect, who was an obsessed Trump supporter, repeatedly called CNN "the enemy America" on Twitter – echoing the president's rhetoric – before he sent his bombs. Today, the president calls the media "the true Enemy of the People." https://t.co/BnrdDrUJYd

— ?andrew?kaczynski? (@KFILE) October 29, 2018
"The true enemy of the people…" Trump advisor @KellyannePolls just moments ago claimed on CNN that the president's words have been "very moving and uplifting" https://t.co/Q0flfYGrXm

— Jim Sciutto (@jimsciutto) October 29, 2018
I know everyone is chiming in but this really does deserve the pile-on. Stop saying this. Stop it. Just stop. https://t.co/4FIz4Yh6eR

— Seth Mandel (@SethAMandel) October 29, 2018
"The true enemy of the people," the president just tweeted is the "Fake News Media." Not mass murderers or mail bombers.

— Jonathan Allen (@jonallendc) October 29, 2018
Every time the President of the United States calls the media the "enemy of the people" he endangers the lives of each & every member of the media in this country.

It is a disgusting & dangerous thing to say. He should be called out by all of us.

Shame on him. Shame on him.

— Joe Walsh (@WalshFreedom) October 29, 2018
We are not the enemy of the people. I am not your enemy. You are not my enemy. It is wrong to call your fellow Americans the enemy. We are all on the same team. We are all Americans.

— Jim Acosta (@Acosta) October 29, 2018
not even a week since pipe bombs were discovered at CNN and he is back to calling the media "the true Enemy of the People" https://t.co/CQ23nmY4W6

— Dave Itzkoff (@ditzkoff) October 29, 2018
"There is great anger in our country caused in part by" the President of the United States and those who pretend not to see the damage he's causing. https://t.co/1RxmzBQvvJ

— Jonathan Capehart (@CapehartJ) October 29, 2018
Thanks for writing. If a specific NPR story concerns you, feel free to name it and we can go to the transcript. All work is public at https://t.co/otXzKrDLpX. If there is no specific story of concern, that is its own answer. I'll continue doing my job as a citizen. Allbest https://t.co/kVjbTnQSYy

— Steve Inskeep (@NPRinskeep) October 29, 2018
He'll never get it. https://t.co/rQSlha2MNG

— Jonah Goldberg (@JonahNRO) October 29, 2018
[featured photo via Getty Images]
Have a tip we should know? tips@mediaite.com
Josh Feldman - Senior Editor