'Two Small, Insecure, Weak Men': Warren Unleashes Brutal Tweetstorm on Trump and Pence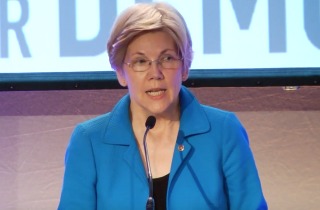 Just in time for Donald Trump's presser with his new running mate, Elizabeth Warren took their Twitter dueling to the next level with a blistering rant on Trump and Mike Pence.
The Massachusetts senator has proven herself as one of the most forceful voices for the Democratic Party, and she has sparred with Trump multiple times throughout the election season over his incendiary rhetoric. On Saturday, Warren proclaimed that Trump and Pence made a "perfect match," and she explained why by going through an extensive list of slams against them.
.@realDonaldTrump & @mike_pence are a perfect match: Two small, insecure, weak men who use hate & fear to divide our country & our people.

— Elizabeth Warren (@elizabethforma) July 16, 2016
Of COURSE @realDonaldTrump – a guy who calls women fat pigs & bimbos – picked a VP who is famous for trying to control women's bodies.

— Elizabeth Warren (@elizabethforma) July 16, 2016
Warren continued her rant by blasting the GOP at large as they show signs of adopting Trump's vision for the future of America.
What's worse? @realDonaldTrump & @mike_pence's sexism isn't some radical fringe of the @GOP. They're in line with the party platform.

— Elizabeth Warren (@elizabethforma) July 16, 2016
The @GOP platform is the most anti-choice ever: defund @PPFA & denounce all abortion. Even cases of rape, incest & woman's potential death.

— Elizabeth Warren (@elizabethforma) July 16, 2016
And OF COURSE @realDonaldTrump – a guy who "[doesn't] feel good" about marriage equality – picked a VP famous for LGBT discrimination.

— Elizabeth Warren (@elizabethforma) July 16, 2016
The @GOP platform says overturn marriage equality & it supports parents putting their LGBT children through conversion therapy. Disgusting.

— Elizabeth Warren (@elizabethforma) July 16, 2016
The @GOP platform even says that children not from "natural marriage" are more likely to be drug addicts. Hateful AND disgusting.

— Elizabeth Warren (@elizabethforma) July 16, 2016
Terrifying to think of @mike_pence being a heartbeat from presidency – but the direction @GOP wants to take our country is MORE terrifying.

— Elizabeth Warren (@elizabethforma) July 16, 2016
Incoming retaliatory Trump tweet about "Pocahontas," in 5, 4, 3, 2…
[Image via screengrab]
— —
>> Follow Ken Meyer (@KenMeyer91) on Twitter
Have a tip we should know? tips@mediaite.com