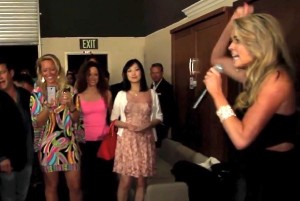 Former Apprentice star Jennifer Murphy probably doesn't have many Asian friends, and definitely has one bad Asian acquaintance who let her make a complete ass of herself while filming a promotional video for her company, Jennifer Murphy Beds. The video was released months ago, but only gained traction on Reddit this week, and it shows Murphy singing an original song called "I Want to Be Neenja" in the most offensively stereotypical Asian-inflected English dialect since ever.
But what takes the cringe factor to eleven is the fact that there's an Asian woman front-and-center among the spectators through the entire song, trading knowing glances with the camera, smiling uncomfortably, even being serenaded by Murphy at one point, before delivering the golfiest golf clap in history:
Whoever she is, she obviously failed to convince Murphy not to publish the video, which has since been taken down, and for which Murphy has apologized:
"I did a song in front of a group of friends that was meant to be silly and self-deprecating, and I posted it last April and received comments from friends and strangers that it was funny," Murphy wrote. "It is obvious that I had bad judgment and didn't understand that my attempt at humor would be seen as insensitive or mean-spirited, and I have removed the video from my channels."

"I sincerely apologize to every person that has felt pain and offence because of me, and I ask their forgiveness."
In a tragic coincidence, this news only broke after Donald Trump had already selected a running mate. Maybe Trump can make her an ambassador.
This is an opinion piece. The views expressed in this article are those of just the author.