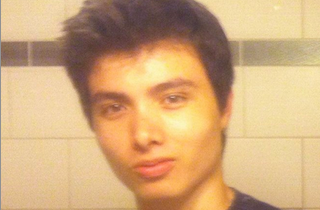 Most of Elliot Rodger's final YouTube videos centered on his frustration over an inability to meet girls that found him attractive. The 22-year-old student who allegedly committed a drive-by shooting spree near UC Santa Barbara Friday night that left seven dead including himself, was also apparently a frequent posted on puahate.com, a forum dedicated to exposing phony "pickup artist" techniques.
The Southern Poverty Law Center, which tracks hate groups, discovered Rodger's postings after the shooting, publishing them on the organization's HateWatch blog. Rodger's comments, while centered on the idea of meeting women, had a significantly racist bent.
RELATED: Facebook Photos Show Extravagant Life of Alleged Santa Barbara Shooter
In a January message titled "Saw a black guy sitting with 4 white girls," he wrote:
Today I drove through the area near my college and saw some things that were extremely rage-inducing.

I passed by this restaurant and I saw this black guy chilling with 4 hot white girls. He didn't even look good.

Then later on in the day I was shopping at Trader Joe's and saw an Indian guy with 2 above average White Girls!!!

What rage-inducing sights did you guys see today? Don't you just hate seeing these things when you go out? It just makes you want to quit life.
That same month, when an Asian poster asked if wearing certain shoes would help him attract women, Rodger responded:
Shoes won't help you get white girls. White girls are disgusted by you, silly little Asian.
After the Asian man posted photos of himself posing with a white girl, Rodger wrote:
Full Asian men are disgustingly ugly and white girls would never go for you. You're just butthurt that you were born as an asian piece of shit, so you lash out by linking these fake pictures. You even admit that you wish you were half white. You'll never be half-white and you'll never fulfill your dream of marrying a white woman. I suggest you jump off a bridge.
As SPLC reported, PuaHate's website was taken down early Saturday morning after a message went up that read, "Puahate is about to get a massive amount of press."
[h/t Jezebel]
[Photo via Facebook]
— —
>> Follow Matt Wilstein (@TheMattWilstein) on Twitter
Have a tip we should know? tips@mediaite.com