Ultra-Orthodox Jewish Newspaper Edits Female World Leaders Out of Charlie Hebdo March
Yesterday's historic march across Paris included over 40 world leaders expressing solidarity for France after the Charlie Hebdo massacre, but if you read this Haredi newspaper, you'd believe that none of them were women.
The image that ran on the front page of the Israeli newspaper The Announcer edited two female world leaders out of the image, originally provided by wire service GPO: German Chancellor Angela Merkel and EU foreign policy chief Federica Mogherini. A third woman in a blue scarf who we can't identify was also photoshopped out. [UPDATE: see below.]
The original photo is below: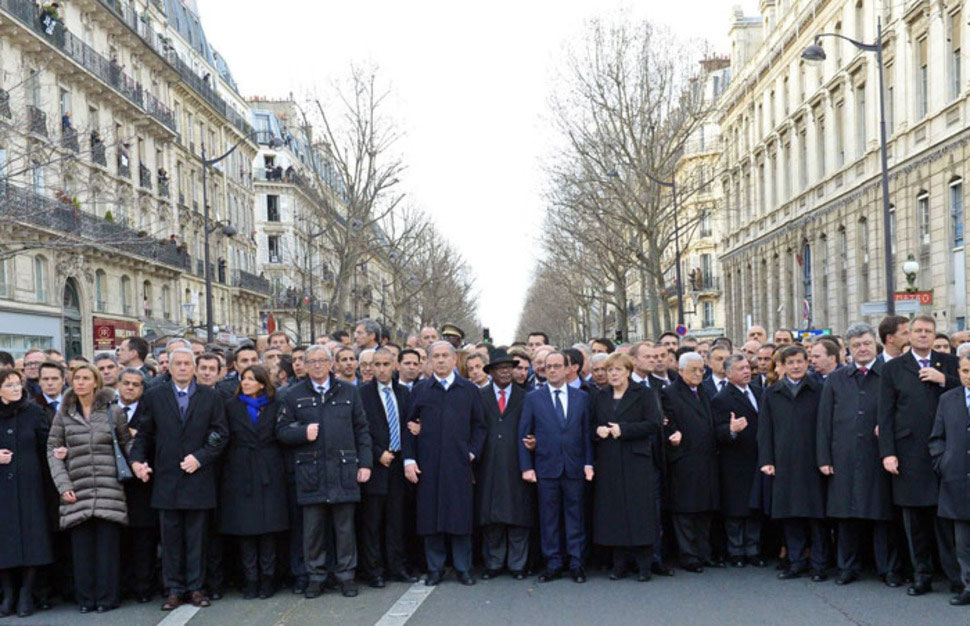 And here's the paper's version of it, screencapped by Walla.com. Merkel and Mystery Woman are gone completely, while Mogherini was simply cropped out of the photo: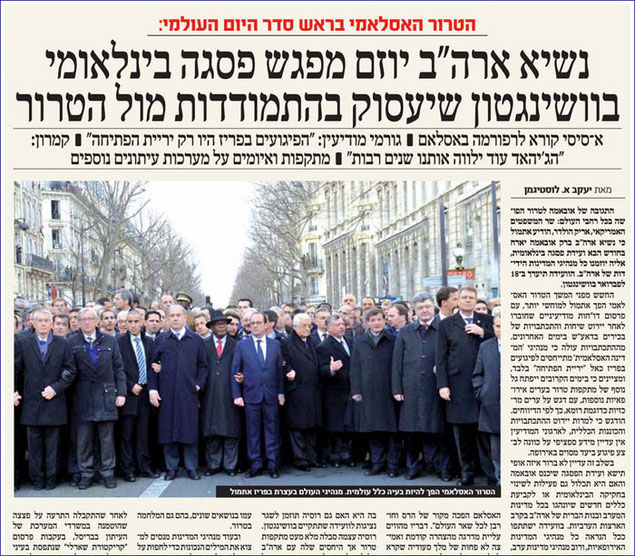 We have seen quite a few shops in our time, but this photo manipulation is pretty sloppy, if you know what to look for. Here are five clear giveaways: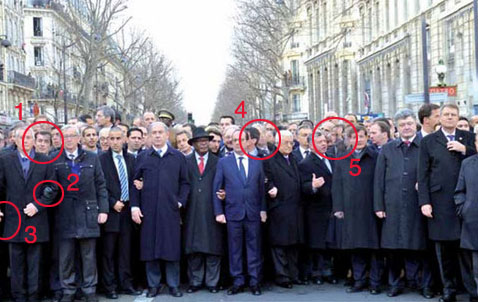 1: Discoloration of man's face
2: World leader wearing a leather glove on one hand and no glove on the other hand
3: Mysterious hand of Federica Mogherini
4: Blurry face of man standing behind where Merkel used to be
5: Uh…that's not a Photoshop, that's a monster.
UPDATE — 6:19 p.m. ET: We have identified some of the missing women!
The woman in the blue scarf is Anne Hidalgo, the Mayor of Paris, who rallied the city to respond to the egregious attacks, but is totally a woman and therefore not important enough to be in these images.
The woman in the puffy coat cropped out of the picture is not Denmark PM Helle Thorning-Schmidt as initially reported, but Federica Mogherini, the High Representative of the European Union for Foreign Affairs and Security Policy. (Proof: this puffy coat.) She's an extremely important figure in European politics — her position places her in charge of the EU's foreign policy — but she's still a woman, so no, she doesn't get to be in the photo.
Merkel is still missing, please let us know if you find her.
For some reason, Palestinian president Mahmoud Abbas is still in the photograph, photoshopped standing right next to French president Francois Hollande, and one person away from Israeli prime minister and frenemy Benjamin Netanyahu.
UPDATE — 6:41 p.m. ET: We may have an explanation for the terrifying image in Example #5: according to this AP photo, it might be the blurred-out face of Swiss President Simonetta Sommaruga, whose face can be seen in the original photo but is missing from the edited image.
[h/t Yair Rosenberg]
[Images via screenshot]
—
>> Follow Tina Nguyen (@Tina_Nguyen) on Twitter
Have a tip we should know? tips@mediaite.com