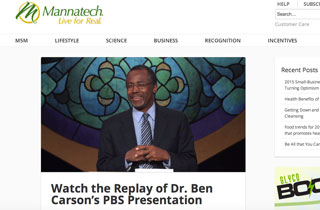 National Review dropped a bombshell of an article on potential 2016 GOP presidential candidate Dr. Ben Carson today, in which they revealed the neurosurgeon's ten-year history with a medical company accused of egregious false advertising.
Between 2004 and 2013, Carson spoke at numerous conferences and appeared in testimonials for Mannatech, a company sued by the Texas State Attorney General in 2007 for false advertising. According to press releases from the time, the AG alleged that the company made false claims that its line of "glyconutrients" would cure everything — and they meant everything:
The original petition in that case paints an ugly picture of Mannatech's marketing practices. It charges that the company offered testimonials from individuals claiming that they'd used Mannatech products to overcome serious diseases and ailments, including autism, non-Hodgkins lymphoma, and life-threatening heart conditions.

Separately, the suit alleges that the company sold a CD entitled "Back from the Brink" that "provided example after example of how 'glyconutrients' (i.e., Mannatech's products) cured, treated, or mitigated diseases including but not limited to toxic shock syndrome, heart failure, asthma, arthritis, Lou Gehrig's Disease, Attention Deficit Disorder, and lung inflammation."

The complaint from Abbott's office further suggested that the company had used careful wording in a scheme to avoid liability, instructing their sales force "not to refer to Mannatech's products by name when making certain claims, but instead [to] refer to them generically as 'glyconutrients,'" before "direct[ing] the customer to the 'only company that makes these patented glyconutrients' — Mannatech."
Mannatech eventually settled with the AG's office, paying a $4 million restitution to its customers while claiming no wrongdoing, and its CEO paying a $1 million penalty for false claims.
Carson, who frequently references his background as a neurosurgeon, specifically hawked the company's "glyconutrients" in at least two videos, and starred in a 2014 PBS special, sponsored by "a group of Mannatech independent distributors," in which he praised glyconutrients and suggested that people buy them. From the mouth of Carson himself:
We aren't necessarily getting the nutritional value that we need. So as I analyzed all those things, I began to realize that that was a significant portion of my problem. And I started to try to figure out, how do you get that supplementation? Well, I became particularly interested in glycoscience, glyconutrients. These things are in your apples, your bananas and beets and everything, you know, that's growing, but by the time we get them, they frequently are gone. And I discovered you can actually concentrate those in powders and pills and things like that. And there are a number of different types of vitamins and supplements that are there. I advise people to actually look into this.
It is very convenient that the "only company that makes these patented glyconutrients" happens to be Mannatech.
Carson also received a large chunk of money for speaking at four different Mannatech-related conferences, starting in 2004, and according to National Review, likely gets more than $40,000 a speech.
Carson's spokesman denied that Carson had a compensated relationship with Mannatech, pointing out that his appearances at the conferences was booked through the Washington Speakers Bureau. But when asked why Carson's face is on the front page of Mannatech's website, , or why Mannatech implied that Carson was a loyal customer, or why its current CEO claims they send fawning letters to each other, the spokesman hinted that Mannatech was the one being unethical:
."Sometimes you get involved with people who have not the best of intentions," he says. "You learn from it and move on. It's a business. They're using him to publicize their website, to monetize it, get people to believe that this is endorsed by Dr. Carson. The facts don't match the reality of what they're promoting to their audience. These things have their own biology and a way of solving themselves. It's not our job to go out and say that 'Mannatech is a bad company, Mannatech exploited Dr. Carson.' What we have to do is a better job in vetting these companies that approach. We get this all the time."
The entire article is available here.
In the meantime, watch Dr. Ben Carson tout the benefits of glyconutrients below:
[National Review]
[Image via screenshot]
—
>> Follow Tina Nguyen (@Tina_Nguyen) on Twitter
Have a tip we should know? tips@mediaite.com