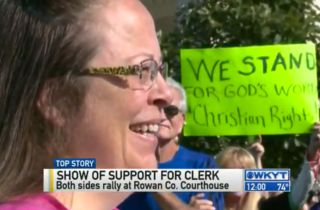 Ever since Kim Davis was jailed for her unceasing defiance of gay marriage, people have wondered whether this would be a repeat of Memories Pizza, the controversial restaurant that drew in over $800K on GoFundMe after being forced to close for their anti-LGBT stance.
Well, it does not seem like that will be happening this time.
Jameson Parker of Addicting Info pointed out that GoFundMe has made several updates that would make it unlikely that a fundraiser for Davis would qualify on their site. The changes, which were made back in April, does not permit for fundraiser used for discriminatory acts, or violations of the law:
We are also informing users that GoFundMe reserves the right to share the content from a deleted campaign with law enforcement, donors or stated beneficiaries who wish to file a police report about any misuse of fundraising proceeds. The added language can be found below:

By using GoFundMe, Users are representing and warranting that all donations received are being given and being used solely for the purpose(s) stated within the content of the User's campaign. We reserve the right to provide information relating to your campaign with donors and beneficiaries of your campaign, and with law enforcement or to assist in any investigation.
Dan Savage previously suspected Davis might be waiting to "cash in" on her controversy, saying on MSNBC that Davis was a "hypocrite" who was waiting to play up her position as a martyr once she is let out.
[h/t UPROXX]
[image via screengrab]
Have a tip we should know? tips@mediaite.com