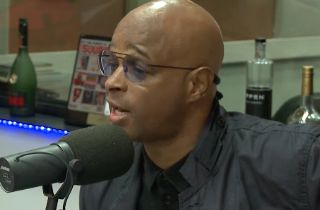 It would seem that SNL alum and In Living Color star Damon Wayans is on Bill Cosby's side when it comes to his scandal.
Wayans appeared on Power 105.1's The Breakfast Club, where he spoke about numerous topics before he was asked if he wanted to give any advice to the star as he continues to face increasing rape allegations. As far as Wayans was concerned, he thought Cosby ought to just divorce his wife and give a deposition on what Wayans thought was a "money hustle."
"If I was him, I would divorce my wife, give her all my money, and then I would go do a deposition. I would light one of them three-hour cigars. I'd have some wine and maybe a quaalude, and I would just go off, because I don't believe that he was raping."
Wayans also questioned why the accusers waited for decades to bring their allegations to light, saying that Cosby couldn't "get it up for any of y'all" because the victims were "unrape-able" or faking amnesia.
"How big is his penis that it gives you amnesia for 40 years? If you listen to them talk, they go, 'Well, the first time…' The first time? Bitch, how many times did it happen? Just listen to what they're saying and some of them really is unrape-able. You just look at them and go, 'You don't want that. Get outta here.'"
You can watch the show here:
[h/t The Wrap]
[image via screengrab]
— —
>> Follow Ken Meyer (@KenMeyer91) on Twitter
Have a tip we should know? [email protected]