Video: Herman Cain Asks Politico's Jonathan Martin 'Have You Ever Been Accused Of Sexual Harassment?'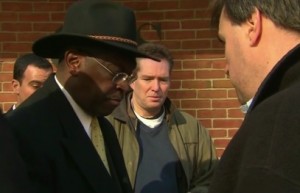 One of the more compelling parts of Politico's bombshell story about allegations of sexual harassment by GOP frontrunner Herman Cain (allegations he calls "false") was the online paper's account of a confrontation with Cain outside the studio of CBS' Face The Nation on Sunday. Although not included in Politico's initial story, they have now made available some video clips of that encounter.
Here's how Politico described the encounter with Cain on Sunday, following his interview with Face The Nation's Bob Schieffer:
Cain said he has "had thousands of people working for me" at different businesses over the years and could not comment "until I see some facts or some concrete evidence." His campaign staff was given the name of one woman who complained last week, and it was repeated to Cain on Sunday. He responded, "I am not going to comment on that."
He was then asked, "Have you ever been accused, sir, in your life of harassment by a woman?"
He breathed audibly, glared at the reporter and stayed silent for several seconds. After the question was repeated three times, he responded by asking the reporter, "Have you ever been accused of sexual harassment?"
While the video doesn't play quite as dramatically, perhaps because of the edits, it certainly is quite a contrast to Cain's smooth handling of the issue today. Given the ten days his campaign had to prepare for the publication of Politico's article, you'd think he would have been better prepared yesterday.
Here's the clip, from Politico:
Have a tip we should know? tips@mediaite.com