Virginia School Board Removes Sherlock Holmes Novel From Summer Reading List Because Of Alleged Anti-Mormonism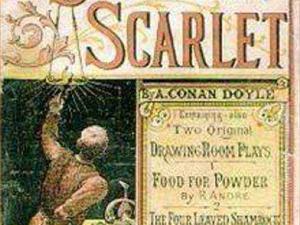 Almost every time books are banned in schools or libraries in the United States, the phrase "concerned parent" is bound to pop up at one point. All the usual suspects get the same run-through; Huckleberry Finn, The Catcher in the Rye, and more recently, Slaughterhouse Five. A few days ago, a concerned parent in Virginia raised concerns over the depiction of Mormons in the Sherlock Holmes book A Study In Scarlet, and it was consequently taken off class reading lists.
The book will still be available to older students, but it was removed from the 6th-grade reading list because one parent found a paragraph in the book that he believed was insulting and denigrating to Mormons, and young children should not be introduced to the religion through the book. This is the paragraph in question:
(John Ferrier) had always determined, deep down in his resolute heart, that nothing would ever induce him to allow his daughter to wed a Mormon. Such marriage he regarded as no marriage at all, but as a shame and a disgrace. Whatever he might think of the Mormon doctrines, upon that one point he was inflexible. He had to seal his mouth on the subject, however, for to express an unorthodox opinion was a dangerous matter in those days in the Land of the Saints.
Wait, that's it? Is that really the evil anti-Mormon message being sent by Sir Arthur Conan Doyle? The Obama campaign using "weird" as code for "Mormon" is, I would think, slightly more offensive to Mormons than a paragraph in a book no one has even heard of anyway.
But the bigger issue at hand here is the idea of censorship, particularly censorship at the grade school level. Every time parents say they are doing this "for the children," that's really code for "our kids don't get to be exposed to things we don't like." As mentioned above, Slaughterhouse Five was recently banned in a Missouri school district because some parents complained about the anti-Biblical message of the book. And school districts all across the country have either banned Huck Finn or changed all the references to the n-word to "slave."
The word "media" is most commonly associated with the news, but it encompasses so much more than that. It's about mass communication and the free flow of ideas. Books are a form of mass communication too, because they bring up important themes that allow us to have a dialogue about taboo issues in society. In response to Slaughterhouse being banned, the Kurt Vonnegut Memorial Library has offered to give out over 100 copies of the book for free. The library's executive director had this to say about the book ban:
"It is shocking and unfortunate that those young adults and citizens would not be considered mature enough to handle the important topics raised by Kurt Vonnegut… Everyone can learn something from his book."
Perhaps we could all learn something from this. Censorship "for the children" is still censorship. And honestly, wouldn't it be a good idea to get people thinking at a young age? Because God forbid children develop intellectual curiosity…
h/t USA Today
Have a tip we should know? tips@mediaite.com
Josh Feldman - Senior Editor