Vogue Publishes What May Be The Best Article Ever Written About Gwyneth Paltrow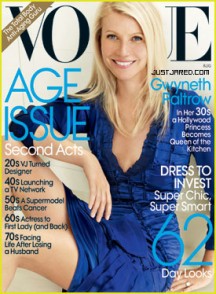 Where to begin. Gwyneth Paltrow is on the cover of August's Vogue, which would be less than interesting if not for the fact that she was interviewed for the feature by longtime Vogue foodwriter Jeffrey Steingarten. Regular readers of Vogue and/or foodie fans and/or people who are neither but just like fantastic writing, will be familiar with Steingarten for his sharp, smart, hilarious articles on food (broadly speaking…good food writing is almost never just about food). Between the increasingly frequent articles on model's hair dye jobs that the "fashion bible" has been running of late, Steingarten is always a good reminder of what Vogue, and magazine writing in general, can do really well.
Also, he is not a celebrity feature writer meaning Vogue readers could possibly be in for an celebrity article that had not been varnished to nauseating perfection by PR hacks. Turns out in the end, I was right! As in the last two grafs end. But it was worth it. Sly, smart celebrity profiles, alas, are few and far between these days.
Early on in the article readers are informed that Steingarten had been dispatched, at Paltrow's request, to interview/cook with her ahead of the release of her new cookbook next spring called 'My Father's Daughter.' The idea was they would cook together in her various homes (she has two pizza ovens and a deep fryer). Apparently even Steingarten had his doubts in the beginning:
As you might imagine, this could be a perilous assignment. If I discovered that Paltrow's cooking was all pretense or, even worse, not very good to eat, I'd be trapped. She was scheduled for the August cover. Nobody would care to read a story disclosing that Gwyneth Paltrow is a bad cook. I would need to lie. But in sharp contrast to my everyday behavior, I never lie in my writing, and I certainly wouldn't want to start now. The whole idea was impossibly risky.
However, good first impressions abound:
We spoke for nearly an hour, and it went without the slightest hitch, partly because I felt I had the home-court advantage. Our conversation was not much different from what it would have been if Gwyneth were a longtime food friend, except that Gwyneth is nicer than most of my food friends….The second thing I noticed was that Gwyneth is considerably more beautiful in the flesh than in pictures. She's an ectomorph (in the language of anthropometrics). You might call her "gangling"—stretched out, a bit taller and svelter and better muscled than you would think, especially in the crucial upper-arm area. She doesn't look gangling in pictures. She has fine genes, good bones.
Also she is a good cook, keeps an exceptionally clean kitchen, knows how to knead dough, and has very sharp knives (on second reading I wondered whether this line was slyly metaphorical: "the first thing I noticed in Gwyneth's apartment was how sharp her knives are. Laser sharp. And how skillfully she uses them. Her knife skills put mine to shame.")
Here's where the trouble starts, and by that I mean this is where it gets good. After Steingarten flies to Paltrow's home in London for a second cooking day ("remarkable hour of perfection") he decides he wants to ask some actual questions.
Things had gone so smoothly between Gwyneth and me that I thought I had a journalistic obligation to shake things up, to peer behind what seemed to me an impossibly perfect life, and so, despite the strong affection I had developed for Gwyneth, I wanted to ask her some rude questions. After discussing the family's new dog, a Maltese the children wanted to name Daffodil (the downside being that the dog's likely nickname would be Daffy), and several gastronomic matters, I warned Gwyneth that I might ask a few questions she might find unpleasant, but that she wouldn't have to answer any of them. I remembered interviews from fifteen years ago, probably in Vogue, of several supermodels, and recalled a few of the questions. Had she ever had plastic surgery? Would she rather have somebody else's body? Did she hate any part of her own, the way Nora Ephron had written about how much she hated her own neck?
At which point Paltrow almost literally shuts the door in his face (but not before her children politely say goodbye).
There was a brief pause. Gwyneth said, "I'll have to give that a little thought." Her voice had changed. It was as though a cloud had passed over the sun.

At that moment, Gwyneth's children and their caretaker burst in, and her attention shifted. They had given their tiny new dog a bath outside, and now it was shivering uncontrollably. I suggested that they hug it tight and begged off the telephone. It was the last time I spoke with Gwyneth.
And he means it! Paltrow subsequently shut him, Vogue's superstar food critic, out of her Vogue photo shoot: "On the morning of the shoot, I was told that, given the size of the set, only a small group could attend and the shoot was now closed. As I knew the set was vast, I was sure that I had offended Gwyneth. I was disconsolate. I never really cared about which part of her body she hates most. So I sent her a large bouquet of costly peonies."
By disconsolate I am imagining — considering the tone of this entire piece — what Steingarten actually means is heartily amused. As with all smart writing, you have to pay attention and read between the lines, but on the whole I think it's safe to say Jeffrey Steingarten has the sharper knife and the great skill at quietly devastatingly sliding it in. Side note: Vogue.com says the version they've posted has been edited; one an only hope there are more juicy details to be found in the print version. Pictures here.
Have a tip we should know? tips@mediaite.com