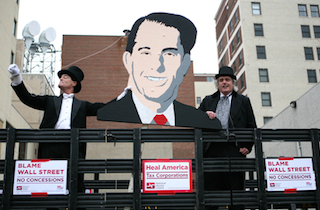 Wisconsin Governor Scott Walker continued his hot streak Wednesday morning, doubling his nearest competitor in a Quinnipiac poll of Iowa Republicans, which would be far better news for the ascendant candidate if the election were next week instead of next year.
Walker pulled in 25% of likely GOP caucus-goers in the early primary state that can make or break a candidate's campaign. Senator Rand Paul (R-KY) came in a distant second with 13%, followed by a tie between former Fox News host Mike Huckabee and neurosurgeon headline-generator Ben Carson at 11%. Jeb Bush, who is largely ignoring the socially conservative state, came in at fifth for the second Iowa poll in a row.
The most interesting takeaway from the poll is probably Huckabee's tie for third place. Attempting to reenter electoral politics after years out of the game as a cable news host, Huckabee is hunting the social conservative vote; he should be the one scoring 25%, not Walker, and he should definitely be more than one percentage point above Bush, who's skipping the state.
Also of note are the candidates' favorables. Walker scored a crazy 57/7 favorable/unfavorable rating; longer-shot candidates like Bobby Jindal also enjoyed lopsided favorability ratings. Bush came in even at 41/40, while New Jersey Governor Chris Christie was the only candidate underwater, at 30/54.
As usual, it appears favorability ratings were actually measuring a candidate's exposure. Candidates who have run before, like Huckabee and Rick Santorum, registered higher unfavorables, while newbies like Walker and Carson enjoyed low unfavorables, a situation that will likely change as they face intensified scrutiny. Meanwhile Ohio Governor John Kasich, the pundits' dark horse, has the most room for growth, with 77% of respondents saying they don't know enough about him.
[h/t Quinnipiac]
[Image via Suzanne Tucker / Shutterstock.com]
——
>> Follow Evan McMurry (@evanmcmurry) on Twitter
Have a tip we should know? tips@mediaite.com