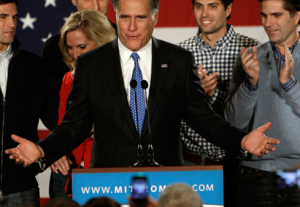 With his win in the Iowa Caucuses last Tuesday, Mitt Romney was able to accomplish something that his campaign feared was insurmountable — overcoming the Mormon gap.
Conventional wisdom and a dollop of common sense says the opposite, right? He barely beat Rick Santorum, a guy who has never placed in the top three of any poll taken this election season. Moreover, Romney's Iowa win was the closest in GOP primary history and, therefore, barely a 'win' at all. But not to me, and not if you look at what is still one of Romney's biggest weaknesses: Mormonism.
In November, Pew Research Center conducted a poll of registered Republican voters regarding their thoughts on Mormonism and found that 53% of Evangelicals don't even consider it to be a religion. Moreover, the poll found that compared to support Protestants and Catholics exuded for Romney (26%), Evangelicals held him in the lowest regard, with 17% support. And it's Evangelicals who dominated the Iowa primary, making up 60% of voters in 2008. Presumably this is what scared Jon Hunstman, also Mormon, enough to skip Iowa completely. He didn't do so quietly either. "Electability isn't going to come out of Iowa, electability is going to come out of New Hampshire," Huntsman recently proclaimed. Sure, it's easy to call that out for what it is — shameless pandering — but it doesn't negate the reality of his having to overcome the Mormon gap.
In January 2011, rumors swirled that Romney discussed skipping Iowa. Such talk was taken so seriously that Iowa Rep. Steve King penned a letter to Romney expressing why he should campaign in Iowa. This would not have been terribly unprecedented. Over the years, candidates from both parties have considered skipping — or have skipped — Iowa for a variety of reasons: John McCain, while he did compete there, didn't really campaign much (and the final results showed why, McCain finished tied for 3rd); and in 1992 Bill Clinton and a host of Democrats skipped the Iowa Caucus because hometown favorite Sen. Tom Harkin was a competitor.
But another harbinger of the Romney camp's fears they may not be able to close the Mormon gap is his campaign history in another heavily Evangelical state: South Carolina. It's second to only Iowa in its number of Evangelicals, who account for 55% of the primary's voters. In September of last year Tea Party and hometown favorite Sen. Jim DeMint held a Labor Day forum for candidates and Romney was nowhere to be found. His campaign claimed scheduling conflicts. But what could conflict with a chance to win over voters who participate in the third primary on the calendar and one in which "no GOP candidate has gone on to win the party's nomination without first winning the South Carolina primary" ?
Somewhere between then and now Romney's calculus in South Carolina — as well as in Iowa — changed and he's clearly using his winning strategy in Iowa to push the advantage even further in South Carolina. A strategy that included tapping into the network he had built in 2008, as well reinforcing his values and his strong belief in family. South Carolina polls now show Romney leading his closest competitor, Rick Santorum, 37% to 19%. Romney was able to pick up South Carolina Gov. Nikki Haley's endorsement in mid-December . (But endorsements alone were not going to be enough, he knew that from experience. In 2008 Bob Jones III, the then-chancellor of Bob Jones University, a christian powerhouse in South Carolina, endorsed Romney and it wasn't enough to move the needle in his favor). Winning Iowa proves the Mormon gap is far from insurmountable. In sum, Romney's Iowa win should preface another impressive victory in South Carolina, and propel him to the nomination.
Have a tip we should know? tips@mediaite.com