Watch Obama Admit to Youthful 'Fooling Around' With Basketball, Girls, But Not Smoking Weed?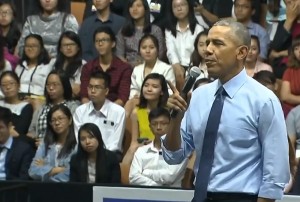 As part of his historic Asia trip this week, President Obama held a town hall meeting with the Young Southeast Asian Leaders Initiative in Ho Chi Minh City Wednesday morning, and in between being told he was "very handsome" and enjoying some freestyle rap, the President got a little bit personal with the young students. Early on, one questioner asked the President "How can we be great like you?"
The President replied by telling the students that they were way ahead of where he was at their age. "When I was young, I fooled around a lot," the President said, adding "I didn't always take my studies very seriously, and I was more interested in basketball, and girls, and I wasn't always that serious."
Later in the event, another young man followed up on the President's youthful lack of focus, including his well-documented and admitted marijuana use, and the President balked. "I don't know if that's true," he joked when the man said he had read on the internet that Obama used to "like smoking the weeds," and even circled back at the end of his lengthy response:
Don't believe everything you read on the internet.
It's possible that the President misunderstood the man to be referring to present marijuana use, but it's more likely, since he cannily did not outright deny it, that Obama was trying not to be seen as encouraging drug use in a country with very harsh punishments for the offense.
Have a tip we should know? tips@mediaite.com