Warren Tears Into 'Drooling Moneygrubber' Trump Over Being 'Excited' For the Housing Crash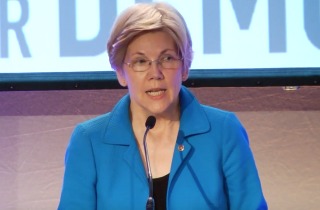 Elizabeth Warren initiated her next sparring match with Donald Trump last night, when she ripped into him for "cheering" the 2008 housing crisis as an opportunity to make money.
In a response to Trump's recent attacks against her, Hillary Clinton has delved into the plutocrat's objectionable quotes from the past, as well as flaws in his business record. One of the biggest points Clinton dug into was a 2006 interview where Trump said he was "excited" by the bubble because "people like me would go in" on the downturn and "make a lot of money."
Warren has yet to side with Clinton or Bernie Sanders, but she's been a major hero to the Democratic effort for her recent fights with Trump through interviews and Twitter duels. In a speech for the Center for Popular Democracy, Warren struck again when she painted Trump as a greedy oligarch who delights in getting richer at the expense of others.
"Donald Trump was drooling over the idea of a housing meltdown, because it meant he could buy up a bunch more property on the cheap," Warren said. "What kind of a man does that? I'll tell you exactly what kind — a man who cares about no one but himself. A small, insecure moneygrubber who doesn't care who gets hurt, so long as he makes some money off it."
Warren proceeded to attack Trump for everything from his reluctance to release his tax returns, to whether he truly understands anything about Dodd-Frank and economic policy.
Trump defended himself against his old interview last night in Albuquerque, saying "I'm a businessman, that's what I'm supposed to do." As for how he took Warren's attack, this tweet should help set the picture.
Goofy Senator Elizabeth Warren @elizabethforma has done less in the U.S. Senate than practically any other senator. All talk, no action!

— Donald J. Trump (@realDonaldTrump) May 25, 2016
[h/t Fortune]
[Image via screengrab]
— —
>> Follow Ken Meyer (@KenMeyer91) on Twitter
Have a tip we should know? tips@mediaite.com