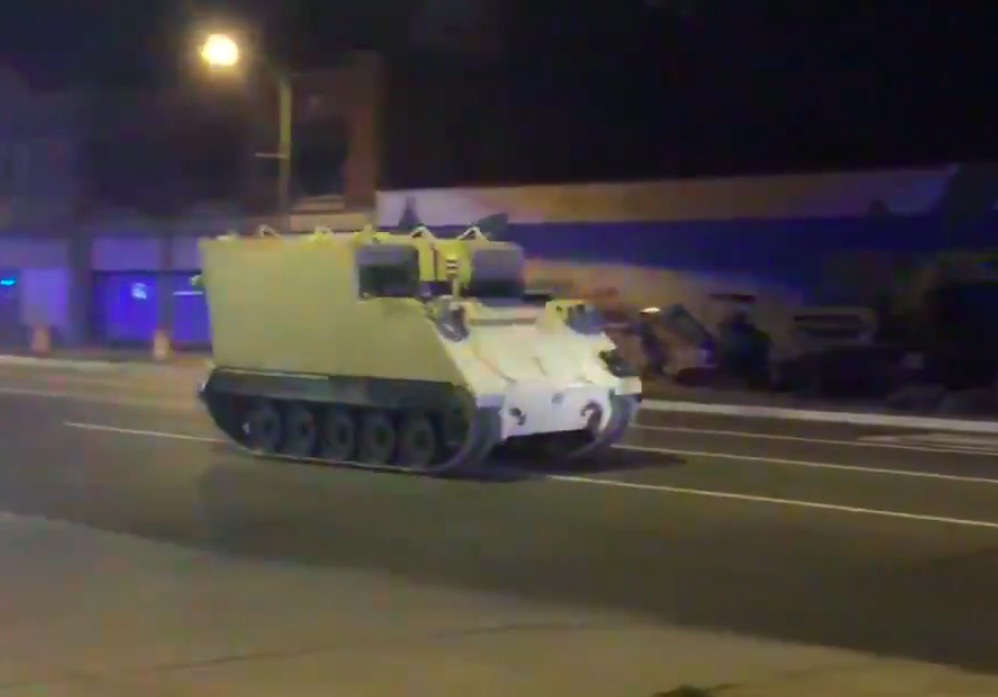 Parker Slaybaugh (great name), the communications Director for Virginia House Speaker Kirk Cox, was presumably minding his own business when a wild police chase — featuring what looked very much like a tank — roared past his house on Wednesday night.
He caught the spectacle on video: one squad car, sirens blaring led the chase. Shortly behind, an absolute unit of a machine sped past at top speed. A number of other squad cars followed.
This is INSANE! Someone has hijacked a "Tank-like" vehicle from Fort Pickett and just drove it by our apartment! This is on Broad Street in the Fan. pic.twitter.com/EYfhFux1dk

— Parker Slaybaugh (@ParkerSlay89) June 6, 2018
WTVR reported that Virginia State Police arrested a soldier from National Guard abuse at Fort Pickett on Tuesday night, who fled after stealing the armored vehicle.
Police were notified of the theft just before 8 a.m., and pursued the rogue soldier as he took his joyride to the highway. He was eventually taken into custody around 9:40 p.m.
Armored vehicle stolen from Fort Pickett that police chased accross central Virginia is stopped on Broad street between City Hall and Capitol Square pic.twitter.com/VZzPUWbUyR

— Ned Oliver (@nedoliver) June 6, 2018
Per WTVR:
Crime insider sources said the suspect, whose name has not been released, is a Virginia Army National Guard Lieutenant and lives in the Fan area of Richmond.

Sources added the Lieutenant is a commander with an engineering battalion at Fort Pickett.
Despite local outlets identifying the vehicle as a tank, Gizmodo reported it actually "appears to be an M577, a vehicle designed for use as a mobile command post by military officers or other support roles."
Watch above, via Twitter.
[image via screengrab]
Have a tip we should know? [email protected]
Aidan McLaughlin - Editor in Chief