'We Respect the Choice': Hillary Clinton Carefully Weighs in on Britain's Referendum Vote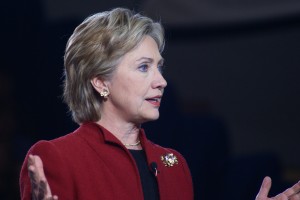 The Republican party presumptive nominee Donald Trump dominated much of the coverage this morning on the cable news nets and beyond. On the day of the historical referendum vote by the people of Britain to leave the European Union, Trump found himself in Scotland at the relaunch of one of his golf courses. Given the time difference, all of the morning shows focused on Trump's remarks, and the real estate mogul took to Twitter quickly and often to voice his support for the vote's outcome.
However, up until just moments ago, the Democratic party nominee Hillary Clinton was silent on the decision of 17 million Brits to leave the EU. Ever the carefully measured response versus Trump's shoot-from-the-hip style, Clinton's camp finally released a carefully worded statement on the vote, which she says she, "respects":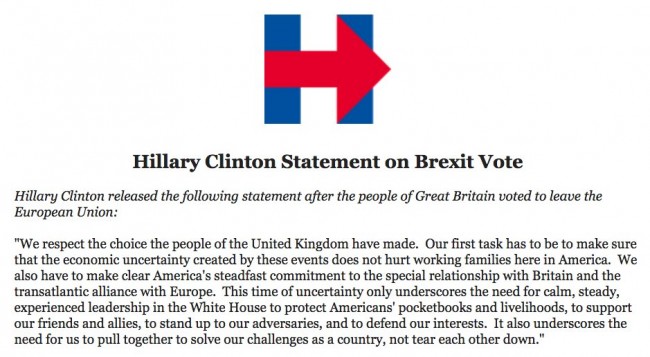 While the maneuver of the British people to leave the EU seemingly aligns itself more with the right-wing radical proposals of the Trump campaign, Clinton was careful not to distance herself too much. "We respect the choice the people of the United Kingdom have made," the statement reads.
Clinton then used the opportunity to pivot to the election here stateside, noting that the economic uncertainty from the referendum brings a necessity for seasoned experience in the White House. "It also underscores the need for us to pull together to solve our challenges as a country, not tear each other down," the statement concludes.
Previously, the former Secretary of State had voiced her support for the #Remain side of the Brexit effort, aligning herself not only with President Barack Obama, but also with British Prime Minister David Cameron in the effort. "Hillary Clinton believes that transatlantic cooperation is essential, and that cooperation is strongest when Europe is united," her campaign said recently. Cameron this morning announced that he will be stepping down as PM.
—
J.D. Durkin (@jiveDurkey) is an editorial producer and columnist at Mediaite.
[image via Wikipedia Commons]
Have a tip we should know? tips@mediaite.com