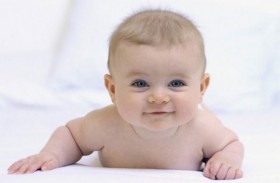 A new group of American citizens has found themselves suddenly left uninsured by the Affordable Health Care Act: babies. And — surprise, surprise — it's thanks to the Healthcare.gov robot malfunctioning again, but this time, its circuits and code are seemingly exploding over the boggling query "WHAT IS BABY".

With regular private insurance, parents just notify the health plan. Insurers will still cover new babies, the administration says, but parents will also have to contact the government at some point later on.

Right now the HealthCare.gov website can't handle such updates.

It's a reminder that the new coverage for many uninsured Americans comes with a third party in the mix: the feds. And the system's wiring for some vital federal functions isn't yet fully connected.
The "change in circumstance" feature, supposed to be a part of Healthcare.gov from the start, apparently "got postponed as the government scrambled to fix technical problems that overwhelmed the health care website during its first couple of months."
The government's official response is that, for now, parents should contact their insurers directly to inform them that a new tiny person exists in their household. At some unspecified point in the future, the government will add an "automated feature" to Healthcare.gov that will allow parents to add their babies to their health insurance policies. Until then, Healthcare.gov will continue to lack a feature that lets users inform Medicaid and Medicare of major life changes that may affect coverage, such as "marrying," "getting fired," or "being dead."
[h/t Talking Points Memo]
— —
>> Follow Tina Nguyen (@Tina_Nguyen) on Twitter
Have a tip we should know? tips@mediaite.com