'What's Conservative About That?' Sarah Palin Goes on the Attack Against Glenn Beck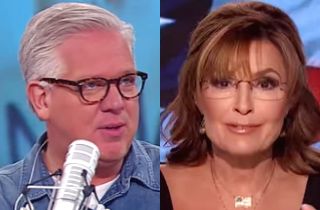 One of the most fascinating conservative fights of the 2016 election has been between Donald Trump surrogate Sarah Palin and Ted Cruz surrogate Glenn Beck. Years ago, these two were heralded as leaders in the tea party movement, but since then, whatever relationship that had has crumbled.
The first major sign was Beck calling Palin a "clown" back in September, expressing that he was "embarrassed" he ever supported her because of how she's thrown in with Trump. And when Palin officially endorsed The Donald, Beck declared that she has officially abandoned her principles and maybe the media was right about her after all.
Well, it was only a matter of time before Palin responded, and boy, did she really let Beck have it.
She went after Beck on Facebook earlier today to raise questions about Cruz'a association with him. She brought up Beck saying in the past he would rather a principled socialist like Bernie Sanders be president than a volatile supposed conservative like Trump. She asked, "What's conservative about that?"
She brought up his visit to the border, "his hatred for the American victims of 9/11" (citing a radio rant of his from a few years back), and how he said years ago John McCain may have been worse for America than President Obama.
Palin got more personal as she went on:
Beck is known for his continuous mocking of Americans who may disagree with his puzzling antics, while crying just last night, "Why mock ME?"… what's consistent about that?…

Beck will go ballistic after reading this post and will ramp up his unjustified attacks against Donald Trump, me, my faith, and you – for acknowledging all this I've outlined, in his own words… what's smart about that?
Yow.
You can read her full Facebook post here:
[image via screengrab]
— —
Follow Josh Feldman on Twitter: @feldmaniac
Have a tip we should know? tips@mediaite.com
Josh Feldman - Senior Editor