White House Announces Tax Compromise Supporters One at a Time, Twitter Hilarity Ensues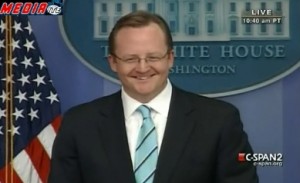 In a series of separate press releases and tweets by Press Secretary Robert Gibbs, the White House seemed to be intent on naming every single supporter of the just-completed compromise on the Bush Tax Cuts. When the wattage of the press releases decreased from people like Governor Ed Rendell (D-PA) to Charlotte, NC Mayor Anthony "Redd" Foxx (his nickname isn't actually "Redd," but it should be), Twitter wags such as Jake Tapper and Dave Weigel threw out some choice wisecracks.
Gibbs took it in stride, even joking that a press release from fictional former President Josiah Bartlett (D-NBC's The West Wing) was forthcoming.

Weigel tweeted:
BREAKING: WH announces support for tax cut deal from guy who delivered Thai food to the speechwriters today. DEVELOPING…
Then, Tapper followed this tweet:
HOLD THE PHONE, Charlotte, NC, Mayor Anthony Foxx. supports the tax cut deal!!!! (WH just emailed reporters.)
…with this Brian Beutler retweet :
RT @brianbeutler: BREAKING FROM WHITE HOUSE: Duluth area glass-blower Hubert T. Grimset backs Obama/GOP tax cut compromise.
Gibbs replied:
Thanks to @jaketapper and @daveweigel for tracking down the endorsements of famed glass-blower and Thai food delivery guy – stay tuned
…then pivoted to a Simpsons reference:
my apologizes – shout out should go to @brianbeutler too – Mayor Quimby is coming!
…before perfectly sticking the dismount with this West Wing-themed quip:
President Josiah Bartlet release is all ready to go…just waiting to hit send!
With the steady stream of abuse the administration is taking over this compromise, it's somewhat remarkable that Gibbs has retained a sense of humor about it. I'm not sure, though, how he would feel about this well-intentioned, but faint, defense by Dave Weigel:
Caveat, as we make fun of mayors et al announcing stances on Obama tax deal: Why is this less legit than statements from @SarahPalinUSA?
While the stream of press releases reflects the bitterness with which this compromise has been greeted, The Washington Post's Ezra Klein has posted a much rosier analysis of the deal than you're likely to hear from, say, Keith Olbermann:
If you look at the numbers alone, the tax cut deal looks to have robbed Republicans blind. The GOP got around $95 billion in tax cuts for wealthy Americans and $30 billion in estate tax cuts. Democrats got $120 billion in payroll-tax cuts, $40 billion in refundable tax credits (Earned Income Tax Credit, Child Tax Credit and education tax credits), $56 billion in unemployment insurance, and, depending on how you count it, about $180 billion (two-year cost) or $30 billion (10-year cost) in new tax incentives for businesses to invest.

But that's not how it's being understood. Republicans are treating it as a victory, and liberals as a defeat. Which raises two separate questions: Why did Republicans give Obama so much? And why aren't Democrats happier about it?
Maybe this is what that senior administration official meant when he told Olbermann that the base "must not have read the details."
Klein goes on to explain that this actually isn't the worst deal since Lou Gehrig offered Wally Pipp some "me time," but that this is a (by now familiar) poor sales job by the Obama administration. Perhaps Gibbs would be better served skipping Mayor McCheese's endorsement, and sending out Klein's piece instead.
Have a tip we should know? tips@mediaite.com