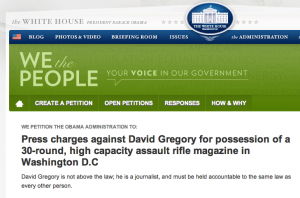 The crusade to stop logic-violence against NRA executive vice president Wayne LaPierre has reached a new level. After Meet The Press host David Gregory helped LaPierre embarrass himself on national television, the right-wing media pounced on Gregory's use of a 30-round magazine as a prop during the interview, a possible violation of D.C. law.  Now, a group of geniuses have petitioned the White House to press charges against Gregory, and they're nearly halfway to the number of signatures required for the White House to respond "That's not a federal law, dumbasses. Not yet…"
On Sunday's Meet The Press, host and moderator David Gregory pressed NRA executive Wayne LaPierre on his opposition to any and all firearms regulation, and at one point, waved an empty 30-round magazine. Since LaPierre's attempts to justify his positions were an utter failure, conservative media outlets seized on Gregory's prop, pointing out that Washington, D.C. law prohibits possession of any clip that holds more than 10 rounds. Now, the police say the matter is "under investigation," even though Gregory may have been given the green light by a D.C. Metro Police official.
Now, the White House's We the People petition program is being used to try and punish David Gregory, with a petition that reads:
WE PETITION THE OBAMA ADMINISTRATION TO:
Press charges against David Gregory for possession of a 30-round, high capacity assault rifle magazine in Washington D.C
David Gregory is not above the law; he is a journalist, and must be held accountable to the same law as every other person.

DC High Capacity Ammunition Magazines – D.C. Official Code 7-2506.01

(b) No person in the District shall possess, sell, or transfer any large capacity ammunition feeding device regardless of whether the device is attached to a firearm. For the purposes of this subsection, the term large capacity ammunition feeding device means a magazine, belt, drum, feed strip, or similar device that has a capacity of, or that can be readily restored or converted to accept, more than 10 rounds of ammunition.

We The People demand that he be formally charged for violation of this law on "Meet The Press."

Created: Dec 23, 2012
The petition currently has accumulated 9,768 signatures, out of the 25,000 needed to force a response from the White House, a response which will likely point out that the federal government has no jurisdiction to enforce a local gun control measure, but that they'll happily accept this tacit endorsement of a federal ban on high-capacity clips.
It's not at all clear that Gregory violated the law, but if he did, he should surrender to the police, and demand to serve the full one-year sentence, so that the world can see that while children are being murdered, and firemen are being hunted, the right-wing media succeeded in bringing David Gregory to justice. Henry David Thoreau couldn't have done better.
Have a tip we should know? tips@mediaite.com