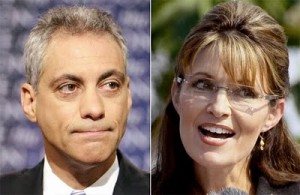 Over the weekend, White House Chief of Staff Rahm Emanuel drew fire from Sarah Palin when he remarked at length that Rep. Joe Barton's (R-TX) apology to BP was representative of her party's governing philosophy. At today's White House briefing, I asked Deputy Press Secretary Bill Burton (Robert Gibbs was watching the World Cup) if he could give us a relatively uncensored readout of Rahm's reaction. Before responding, he said "If only Vice President Biden were here today…"
I asked Burton to respond to this Palin tweet: (note, she didn't ask "Can I call ya Rahm?")
RahmEmanuel= as shallow/narrowminded/political/irresponsible as they come,to falsely claim Barton's BP comment is "GOP philosophy"Rahm,u lie
I also asked Burton to respond to conservative criticism that having a White House appointee like Ken Feinberg administer the $20 billion compensation fund amounts to politicizing it. Here's Burton's response:
Toward the end, Chip Reid asks Burton to clarify. "Did you say she's 'uglier,' or 'a leader?'"
Burton replied "A leader." (Can you imagine if he hadn't?)
Burton is on-target about Feinberg. He was asked earlier in the briefing how Feinberg was going to be paid, and said he would check back, but as administrator of the 9/11 Victims Compensation Fund, he did the whole thing pro bono. I don't remember anyone accusing John Ashcroft of creating a slush fund.
As for Palin, her famously powerful social networking accounts may work against her this time. The more she pushes back on this, the more people are just reminded of Barton's apology, and all the Republicans who agree with at least part of it. Time to let this argument go before a Death Panel.
Have a tip we should know? tips@mediaite.com