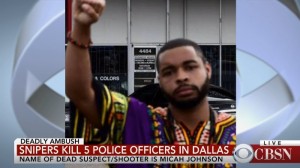 Officials identified Micah Xavier Johnson, 25, from Mesquite, Tx., as the shooter responsible for the murders of five Dallas law enforcement officers and injuries of nine others.
He is being described as a recluse who lived with his mother and had no prior criminal record, CNN reports.
CNN Justice Correspondent Evan Perez reported that Johnson had no ties to extremist groups or criminal background. "It appears that until he started shooting last night in Dallas they had not come across this man before."
Alex Horton, a reporter for Stars & Stripes, reported an Army personnel spokesperson confirmed that Johnson was an Army veteran.
Alleged Dallas gunman Micah X. Johnson was an Army veteran, an Army personnel spokesperson confirmed to me. #DallasPoliceShooting

— Alex Horton (@AlexHortonTX) July 8, 2016
Johnson was in a standoff with Dallas law enforcement from shortly before midnight until about 5 a.m. Friday morning, Dallas Police Chief David O. Brown previously told reporters.
During those negotiations, Johnson said that he wanted to kill white people, especially white police officers, that he was incensed by the recent shooting deaths of black men by police officers in Louisiana and Minnesota, and that the "end is coming."
"The suspect stated that he was not affiliated with any groups, and he stated that he did this alone," the Dallas PD Chief said.
After negotiations broke down, Johnson was killed when a police robot detonated a bomb, which took him out.
NEW: Photo shows #Dallas shooting suspect ID'd as 25-year-old Micah Xavier Johnson https://t.co/ImEtSSNmRf pic.twitter.com/1iMXKpmMzB

— CBS News (@CBSNews) July 8, 2016
Johnson was two-and-a-half to three years ago briefly a member of the Houston chapter of the New Black Panther Party. "The way he was acting you could tell there were some mental health issues there. We knew the brother was a ticking time bomb. There were times when I had to excuse him and correct him," the chapter's leader, Quannel X, told Houston's Morning News. The chapter's leader said Johnson was only a member for six months and was asked to leave after showing insubordination and repeatedly questioning the group's tactics.
Despite the reports of multiple shooters, Perez said, it was possible Johnson had carried out the attack by himself. Although NBC News reported that Johnson "is one of four people police said were responsible for ambushing police officers at a peaceful protest against nation-wide officer-involved shootings in Dallas Thursday."
This story has been updated.
Have a tip we should know? tips@mediaite.com