Fox's Greta van Susteren Decides She Doesn't Believe Gretchen Carlson's Sexual Harassment Claims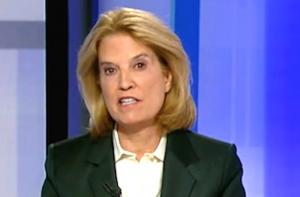 Fox News anchor Greta Van Susteren has spoken out about the allegations made by her former coworker, Gretchen Carlson, against their boss, Roger Ailes. Carlson says Ailes sexually harassed her but van Susteren disagrees.
She spoke to People and said this:
Of course, the first thing that occurred to me is that, unfortunately, we have a disgruntled employee, a colleague. I read that her show wasn't being renewed and , being a lawyer, I thought she got angry. I deal with Roger Ailes often. I've often been alone with Roger Ailes in his office over the course of 15 years and I've never seen anything like what I'm reading about in the papers and the magazine.
Note that People points out that Van Susteren and Carlson only covered one event together in all that time and beyond a few other appearances on Carlson's show and a couple of drinks, they didn't have a lot of interaction. Still, van Susteren asserted her belief that any whispers of sexual harassment would have made their way around the network.
She claimed that because she has been with the company so long, people would have told her by now if someone were being harassed. Now that "at least 10" other women have reached out to Carlson's lawyer to discuss Ailes, that may not be true.
Van Susteren went on to defend her boss and even imply that Carlson wasn't grateful enough for her own hour-long show. She capped it all off with some of that faux-pity the mean girl at your high school used to be so good at wielding:
I sort of feel bad for Gretchen Carlson because it's sort of a weird thing that she's done. What she's alleging is something that is alien to me. I've never heard it.
The lines are being drawn and Fox's staff and associated companies are taking their sides. This is going to be a drawn-out battle and we will all have a front-row seat.
[image via screengrab]
For more from Lindsey: Twitter. Facebook.
Have a tip we should know? tips@mediaite.com