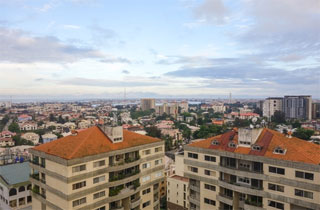 Here is some good news for people who hate ebola news (and we know there's a lot of you out there): Nigeria has successfully contained an ebola outbreak, officially declaring itself ebola-free after 42 days without any new cases.
"This is a spectacular success story," World Health Organization official Rui Gama Vaz declared at a press conference, according to NBC News. "But we must be clear that we have only won a battle, the war will only end when West Africa is also declared free of Ebola."
Beginning in July, Nigeria reported 20 cases of ebola, with eight deaths overall. Though they were caught off-guard by the presence of ebola in their country, transmitted by a Liberian-American diplomat who collapsed in a Nigerian airport after flying with symptoms, an aggressive response by the Nigerian government helped contain the outbreak — no easy feat, since the diplomat, Patrick Sawyer, collapsed in Lagos, a city of 21 million people. As the Scientific American reports:
The swift battle was won not only with vigilant disinfecting, port-of-entry screening and rapid isolation but also with boot leather and lots and lots of in-person follow-up visits, completing 18,500 of them to find any new cases of Ebola among a total of 989 identified contacts.

Such ground-level work may sound extreme, and the usually measured WHO declared the feat "a piece of world-class epidemiological detective work." But as William Schaffner, chair of the Department of Preventive Medicine and an infectious disease expert at Vanderbilt University, says, "Actually what Nigeria did is routine, regular—but vigorous and rigorous—public health practice. They identified cases early—fortunately they had a limited number—and they got a list of all of the contacts, and they put those people under rigorous surveillance so that if they were to become sick, they wouldn't transmit the infection to others," he says.
[NBC News]
[Image via Shutterstock]
—
>> Follow Tina Nguyen (@Tina_Nguyen) on Twitter
Have a tip we should know? tips@mediaite.com