Who's No. 1, Hannity Or Maddow? Fox News and MSNBC Both Claim Ratings Victory in February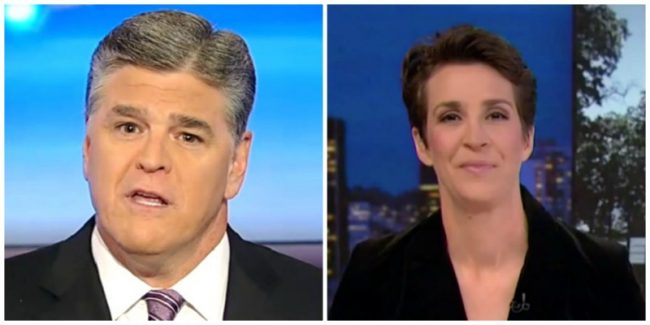 Fox News and MSNBC are disputing whether Sean Hannity or Rachel Maddow took the No. 1 slot in cable news viewership last month.
Both networks released statements on Tuesday, citing Nielsen data, claiming that their respective anchors won in prime time and had a bigger share of the coveted adults 25-54 demographic. MSNBC says that Maddow averaged 549,000 A25-54 viewers per night and 3.1 million viewers overall. On the other hand, Fox says Hannity brought in an audience of 575,000 A25-54, and his grand total was 3.165 million.
Industry sources tell Mediaite that the discrepancy is the result of Fox News excluding "specials," or days when substitute anchors fill in for Hannity. MSNBC, on the other hand, does include numbers from when Hannity is not on the air. That means that Fox News is counting nights when Hannity himself goes up against Maddow, while MSNBC is counting all weekdays of the month.
The other major show at 9 p.m. appears to be finding its niche. Cuomo Prime Time on CNN, hosted by Chris Cuomo, was CNN's top-rated show in February with 1.287 million overall viewers and 365,000 in the demo.
Other notable takeaways from the February numbers; MSNBC's The 11th Hour with Brian Williams beat out both Fox News and CNN in both A25-54 viewers and total viewers at 11p PM for the 3rd month in a row. Williams' show averaged 327,000 viewers.
And Fox News's coverage of the State of the Union was the No. 1-rated show on cable for the entire month with 11.3 million viewers.
Have a tip we should know? tips@mediaite.com