Why Did Police Shoot This Football Player Who Had Just Survived a Car Wreck?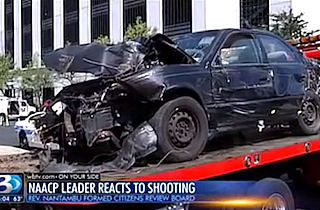 Charlotte, North Carolina, officer Randall Kerrick has been charged with voluntary manslaughter, after an incident in which he shot and killed a former Florida A&M football player who may have been approaching him for help following a car crash.
Police have ruled the shooting "excessive."
"Our investigation has shown that Officer Kerrick did not have a lawful right to discharge his weapon during this encounter," the Charlotte-Mecklenburg Police Chief Rodney Monroe said.
The incident began early Saturday morning when Jonathan Ferrell survived a severe car crash—one so bad police believed he had to climb out the back window—and sought aid at a nearby house. Not recognizing the man banging on her door, the resident called the police. Officers say that when they responded, Ferrell charged them, and after an unsuccessful attempt to stop him, Kerrick fired several shots, killing the twenty-four year old ex-Flordia safety.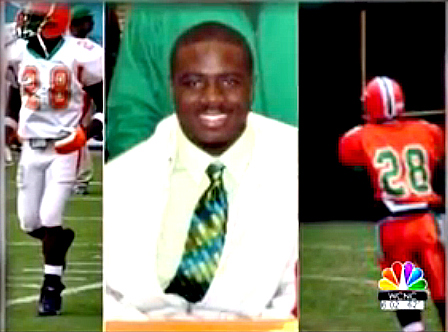 Above: Kerrick, then a photo shared on Instagram by one of Ferrell's friends.
Ferrell, who was African American, was unarmed, and the investigation showed no signs of alcohol involved.
The local chapter of the NAACP is seeking the help of the state's chapter to bring back the Citizen's Review Board, which monitors behavior of the city's officers.
"There is no perfect police department," said Reverend Kojo Nantambu, president of the local NAACP. "There are rogues, there are renegades, there are those who do not necessarily conform to all the training that is given to them to make sure there no unnecessary killings."
The CMPD is also under investigation by the FBI for a shooting earlier this year, and was cleared of wrongdoing for a shooting last year.
Monroe described Kerrick as "devastated." The two other officers with him were placed on administrative leave.
Watch local news coverage about the incident below:
[h/t TP]
[Images via screengrab]
——
>> Follow Evan McMurry (@evanmcmurry) on Twitter
Have a tip we should know? tips@mediaite.com