Why Marco Rubio Pal Rush Limbaugh Stopped Playing 'The Star Spanglish Banner'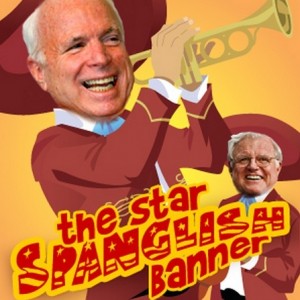 On Tuesday's edition of The Rush Limbaugh Show, Senator Marco Rubio (R-FL) was able to persuade host Rush Limbaugh that comprehensive immigration reform is "admirable and noteworthy," which was no mean feat, given Limbaugh's history of hostility toward some immigrants. In fact, Sen. Rubio was seeking approval for his plan from a man who used to run a regular "Illegal Immigration Stack" segment on his show, which would open with the playing of "The Star Spanglish Banner," by "José and the Illegals."
To his credit, though, Limbaugh appears to have stopped using the song after one of his listeners complained that the song was offensive, although maybe not for the reason it offends you.
The song isn't actually by "José and the Illegals," that's just a "joke." It's actually the product of white minstrel "satirist" Paul Shanklin, the same guy who brought you "Barack, The Magic Negro."
According to Rush Limbaugh's online archive, the last time that song was played, the host introduced the segment with his usual amused enthusiasm. "All right, time to delve here into our illegal immigration stack, and as we always do, ladies and gentlemen, we stand for the Star Spanglish Banner prior to getting into the stack," he said, then after the song, added "That is José y Los Ilegales and the Star-Spanglish Banner."
Coincidentally, Limbaugh talked about the same undocumented immigrants, in this episode, that Rubio described to Limbaugh, on Tuesday, as aspiring business owners. With no Sen. Rubio around, however, Limbaugh described them as "hordes of low wage, unskilled, uneducated people," and "illegal, uneducated, low wage, unskilled," "who are here just to bleed us dry."
After playing the song one more time, and talking about bloodsucking illegals some more, Limbaugh went to the phones, and a caller who was mightily offended by "The Star Spanglish Banner." Here's Bill from Union, New Jersey:
CALLER: Rush, I've been trying to get through to you for years. You are my idol, and I finally got through to you, but the reason why I got through was a negative reason, and it's bothering me. You are using that parody that you're doing lately, it is great, it's making me laugh, I agree with you all the way, but you're using the national anthem of the United States. And it kind of hurt me.

RUSH: It hurts you to hear the national anthem —

CALLER: Used in a parody. It's almost like burning a flag or something.

RUSH: Burning the flag. Interesting. Well, I'm sorry that it affected you that way.

CALLER: Well, it did.

RUSH: Well, but you know that I mean no disrespect.
It gets better, though. Bill wasn't just offended by the parody, but by the actual national anthem:
CALLER: I know that, but the thing is, well, when I heard the Spanish version of the national anthem, that got to me, too.

RUSH: Yeah, but that was at least with the real words, as far as we know it was the real words.
Yeah, who knows what that gibberish means? Limbaugh concluded with words of praise for heroic Bill, and a plea for reciprocation:
RUSH: It's great to hear from patriotic people like you. In fact, in fact you said you've been trying for a long time to get through, and now you finally got through and it was something negative.

CALLER: Yeah, a negative thing.

RUSH: Well, I'm sure you have a positive thing you'd like to say. You could end the call on a very pleasurable note.

CALLER: All I can say is, you are my guiding light in everything. Okay? Except this one thing.

RUSH: (Laughing.) I appreciate that. Gee, I hadn't even thought of that, that it might hurt people's feelings that they think we're making fun of the national anthem, which we're not. I mean the purpose of the Star Spanglish Banner is not to make fun of it. Well, yeah, blame it on white satirist Paul Shanklin. (Laughing.) I had nothing to do with it. I was minding my own business and it showed up. It's not my fault, Bill.
That was, apparently, the last time Rush used the song on his show.
This all falls under the category of Rush being Rush, but it's significant because it shows how little the Republicans have learned their lesson. They think their deficit with Latino voters can be solved with immigration reform, but they don't see a problem with submitting themselves to the "Star Spanglish Banner" guy for approval. During their interview, Limbaugh continued to refer to undocumented immigrants as "Hispanics, illegals," and Rubio didn't bat an eye.
In 2008, Republican Chip Saltsman saw his candidacy for RNC chair torpedoed by news that he gave Paul Shanklin CDs as Christmas gifts, and then-RNC Chairman Mike Duncan issued a statement that sounds eerily familiar today:
"The 2008 election was a wake-up call for Republicans to reach out and bring more people into our party. I am shocked and appalled that anyone would think this is appropriate as it clearly does not move us in the right direction."
Four years later, they're still hitting the "snooze" button.
Have a tip we should know? tips@mediaite.com