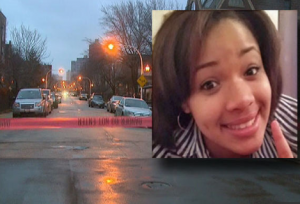 A heartbreaking story from Chicago today. Fifteen-year-old Hadiya Pendleton was shot and killed in Chicago yesterday, just about a week after she performed with her high-school band at President Obama's inauguration in Washington, D.C.
Pendleton was a sophomore at King College Prep, according to the Chicago Tribune. She and a group of 10 or 12 teenagers headed a nearby park after school on Tuesday. According to police, the group was taking shelter from the rain under a canopy when "a boy or man jumped a fence in the park, ran toward the group and opened fire." She and a 16-year-old boy were wounded — and the boy is in critical condition.
The Tribune reported that "most of those who were in the park were gang members, and those in the group did not stay on scene to help after the shootings."
Neighbors told her as many as 10 young people had been hanging out at the small park, and most scattered after the shooting, though a few stayed behind with the victims.

Those in the group were not cooperating with police, however, and investigators had no detailed descriptions yet of either the attacker or the vehicle in which he left. Central Area detectives were investigating, and they had no one in custody as of about 8:20 p.m.
Friends said Pendleton "was a majorette and a volleyball player, a friendly and sweet presence at King, one of the top 10 CPS selective enrollment schools."
"As usual, the bad guy aims, but he never hits the other bad guy… He hits the one that hurts the most to lose," said Chicago Police Officer Damon Stewart, 36, Hadiya 's godfather (per the Chicago Sun-Times). "I changed her diapers, I played with her growing up. My heart is broken."
Pendleton was one of three shooting deaths in Chicago on Tuesday, according to NBC News. The city has long been plagued by gun violence — with more than 40 people shot dead this year.
Have a tip we should know? tips@mediaite.com