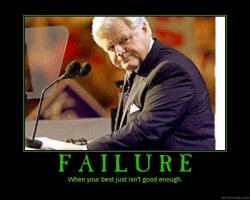 In a time of opinion journalism and partisan politics, it doesn't take much to rile up internet commenters into a poison-spewing frenzy. Still, the online discourse can be telling, especially as you approach the political fringe. "Hells awaiting," read one particularly acerbic note on the popular conservative website RedState.com this morning after reports surfaced late Tuesday that Senator Ted Kennedy succumbed to brain cancer. "If there's any justice, he'll finally get what's coming to him."
Bill O'Reilly knows how cruel the comments can get based on the amount of coverage he's devoted to followers of the liberal blog DailyKos upon the death of key conservatives, such as pundit and former White House Press Secretary Tony Snow and more recently, columnist Robert Novak. O'Reilly went so far as to compare the DailyKos community to the KKK and Nazis based on out of context quotes about Snow's cancer.
Now, crass insensitivity about the dead is nothing new on the internet, but since it is a reoccurring source of scorn for O'Reilly, will he be keeping a watchful eye on the conservative corners of the web today to assure everyone is respecting the death of Sen. Kennedy? It seems doubtful.
Here's a taste of the bile spilling anonymously online so far today amid the outpouring of respect and grief for the late senator. Obviously, as it goes on the internet, sic throughout.
RedState.com
"It's a great day to be in Massachusetts" –GOPMOM
"For somber occasions such as this, you could go with a Mimosa if you've got some champagne hanging around." –janis
"Allow me to add my voice to the chorus wishing Ted a speedy trip to hell." –usrbinperl
FreeRepublic.com
"Well. The Devil claims his own, after all." –Eleutheria5
"Nothing like getting up to a beautiful sunny morning and hear the best news in 2009." –tioga
"A Fudge Packer like Barney ." –dead
TownHall.com
"Hope the 9th ring is good and toasty for you,Ted! Roast in Peace!" –clyde
"Wonder why he didn't go to Cuba for his medical treatment?" –kbTexan
"Finally, the fourth horseman of the apocalypse goes to his 'reward.'" –FairnessMan
HotAir.com
"DIBS ON THE LIVER!!!!!!" –hanoverfist
"I wished Teddy to RIP long ago. Long past due." –maverick muse
"HE WAS A LYING TRAITOROUS MURDERING SACK OF NARCISSISTIC EXCREMENT!!!!" –lm10001
Have a tip we should know? tips@mediaite.com