With Pennsylvania Ruling, Gay Marriage Now Legal in Entire Northeastern U.S.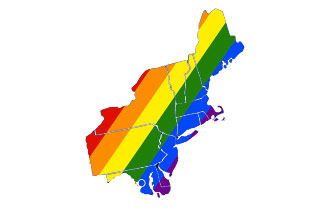 CBS Pittsburg reports that minutes ago, Judge John E. Jones III ruled that a recent attempt to ban same-sex marriage in Pennsylvania was unconstitutional, saying that the attempted Defense of Marriage Act "violates the fundamental right to marry as well as the Equal Protection Clause of the Fourteenth Amendment."
With this ruling, every state in the Northeastern United States — Maine, New Hampshire, Massachusetts, Rhode Island, New York, Connecticut, New Jersey, Delaware, Pennsylvania, and Maryland — officially recognizes same-sex marriages as legal.
It's not surprising, given the Northeast's generally liberal reputation: Same-sex marriage was first recognized by Massachusetts almost exactly ten years ago, and the rest of the states eventually followed suit. Geographically, states legalizing same-sex marriage tend to be in liberal regions: With yesterday's ruling in Oregon, the entire West Coast — Hawaii included — recognizes same-sex marriages as well. (In contrast, only four states in the Midwest recognize gay marriage thus far.)
Fun fact: Judge Jones was appointed to the federal circuit by George W. Bush, and his nomination was backed by then-Senator Rick Santorum. Jones, who also has a fun history of angering the conservative base with his progressive rulings, also wrote the following sentence to close his ruling:
"In future generations the label same-sex marriage will be abandoned, to be replaced simply by marriage. We are better people than what these laws represent, and it is time to discard them into the ash heap of history."
Santorum has yet to comment, but probably hates himself.
[h/t CBS Pittsburgh]
[Image via Tina Nguyen]
—
>> Follow Tina Nguyen (@Tina_Nguyen) on Twitter
Have a tip we should know? tips@mediaite.com