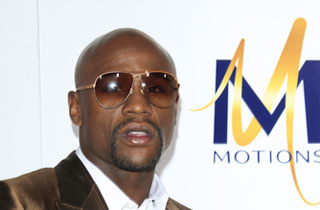 In comments to the AP, boxer and notorious woman-puncher Floyd Mayweather said that the NFL shouldn't have dropped Baltimore Ravens player Ray Rice in light of a new video showing him knocking out his then-fiancee, Janay Palmer. Instead, Mayweather argued that the league should have retained the two-game suspension, a punishment roundly condemned by the public as insufficient back in March.
"I think there's a lot worse things that go on in other people's households, also," Mayweather said, saying that the punishment shouldn't have changed based on the release of the video. "It's just not caught on video, if that's safe to say."
Mayweather is no stranger to domestic abuse charges: He's pled guilty to two charges of domestic violence against his daughter's mother, in which he repeatedly punched her in the face while his daughter watched, and nearly beat another girlfriend to death. (In the latter case, he was charged and faced up to 34 years in prison, but pled no contest and managed to negotiate it down to 90 days in jail.)
But according to Mayweather's logic, he's totally okay because there's no photos of his abuse:
"Like I've said in the past, no bumps, no bruises, no nothing," Mayweather said. "With O.J. and Nicole, you seen pictures. With Chris Brown and Rihanna, you seen pictures. With (Chad) Ochocinco and Evelyn, you seen pictures. You guys have yet to see any pictures of a battered woman, a woman who says she was kicked and beaten (by Mayweather). So I just live my life and try to stay positive, and try to become a better person each and every day."
Floyd Mayweather is probably the only person who thinks the NFL was too harsh on Ray Rice.
[h/t Deadspin]
[Image via Helga Esteb / Shutterstock.com]
—
>> Follow Tina Nguyen (@Tina_Nguyen) on Twitter
Have a tip we should know? tips@mediaite.com