Worse Than Fox? Media Critic Trashes MSNBC 'State Propaganda' Following Hiring Of Ex-Obama Advisers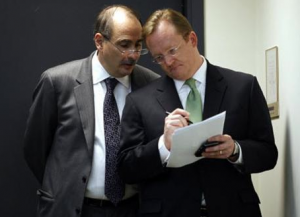 On a regular basis, there's no shortage of criticism directed at Fox News for being consistently and unfairly biased. But Baltimore Sun media critic David Zurawik argues that MSNBC, having hired ex-Obama advisers David Axelrod and Robert Gibbs, is worse.
RELATED: MSNBC's Axelrod And Gibbs Deny 'Pro-Obama' Allegations, Claim Mantle Of 'Independent' Analysis
The network is now "all but a bona fide organ of state propaganda," he writes, asserting that it is in step with the government's voice, aiding in masking its activities. In making his point, Zurawik looked to a segment on Andrea Mitchell's show in which Axelrod joined in to talk about the sequester.
"There is a belief among some Republicans in Congress that maybe this sequester's all right," Axelrod said on the show. "Maybe this is another way of shrinking government in a dramatic way. That's a dangerous idea, but it's not uncommon in some quarters on Capitol Hill."
Which begs the question: "What is this if not exactly the spin Team Obama seemed to be working on all week?" While the president doesn't seem to be willing to sit down for many substantial interviews, he notes, we're still getting his message loud and clear — through MSNBC, the "so-called news channel."
It's "same kind of oppositional attack-dog stuff" they did when they worked for Obama. Despite their own insistence that's not the case: As you might recall, Gibbs told Howard Kurtz, of his new role, "I don't see it either as being a cheerleader for the president or as a spokesman for the administration's point of view." Axelrod offered a similar view.
Zurawik readily dismisses this argument: They're both on network that "serves as TV mouthpiece for the White House."
(h/t Baltimore Sun)
Have a tip we should know? tips@mediaite.com