Wounded Vet Whose Photo Trump Tweeted to Bash NFL Players is Sick of 'Sycophantic Bullsh*t'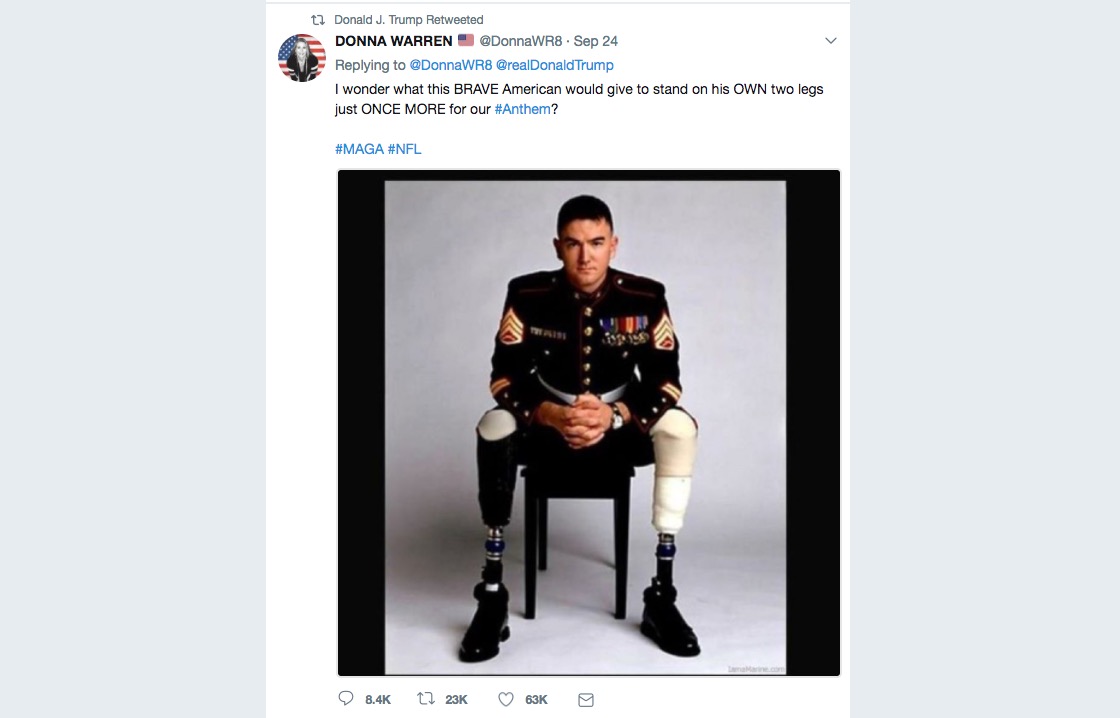 Amidst his war of words against the NFL, President Donald Trump retweeted a photo earlier this week of a veteran who lost both of his legs in Iraq, as a criticism of players kneeling for the National Anthem to protest police brutality.
The photo was tweeted out by user "DONNA WARREN" along with the caption "I wonder what this BRAVE American would give to stand on his OWN two legs just ONCE MORE for our #Anthem? #MAGA #NFL". Thanks to a retweet from the president, it has now more than 22,000 retweets and 63,000 likes.
Well, Buzzfeed managed to get in touch with the veteran in the 10-year-old photo — retired Marine Staff Sgt. John Jones, who lost both his legs in Iraq in 2005 — and he had some thoughts on the NFL controversy:
Jones says he is sick of military veterans being used as props "to push a political agenda" in the renewed controversy over whether athletes' protests, which they say draw attention to racial discrimination and police brutality, disrespect the military. If you really want to honor the troops, listen to them, he says.

"Just stop with this sycophantic bullshit and actually do something to support us," said Jones, who works for Workshops for Warriors, a San Diego nonprofit that has trained more than 400 veterans for skilled manufacturing jobs. "I would want Trump to tweet about that, instead of fueling the fire with the people making 10 million to score a freaking touchdown. And for people (seeing the photo) to say, 'Look, he's still standing for this country, and getting veterans good jobs.'"
While Jones said he would personally stand for the National Anthem, he does not oppose peaceful protest:
"I've got my own views about this, but that's why I put the uniform on, so people can do whatever they want in a lawful, peaceful manner," he said. "I'm sorry, but if you want to know what the real issues are – go to Iraq, or Syria, or Afghanistan, go to places that don't have the freedoms that we have and see how far you get."
Jones wasn't the only veteran Trump tweeted a photo of to bash NFL protestors. He also retweeted a photo of former NFL player turned Army Ranger Pat Tillman, who was killed by friendly fire in Afghanistan.
Tillman's widow condemned Trump's use of her husband's image, arguing that his service "should never be politicized in a way that divides us."
[image via screengrab]
—
Follow Aidan McLaughlin (@aidnmclaughlin) on Twitter
Have a tip we should know? [email protected]
Aidan McLaughlin - Editor in Chief