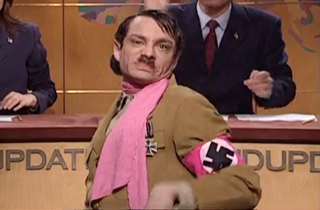 A few months back, the editor-in-chief of an Iowa newspaper was fired for making negative comments about "the LGBTQXYZ crowd and the Gaystapo" on his personal blog. Of course, he is now suing them.
Bob Eschliman, the former EIC of the Newton Daily News, is now suing his paper's parent company for religious discrimination, saying in his lawsuit that he "was fired for holding and talking about my sincerely held religious beliefs on my personal blog during my off-duty time from the comfort of my own home." Unfortunately, we will not know those religious beliefs, because Eschliman deleted his entire blog.
Oh wait, Jim Romenesko has a snippet of what he said:
[Jesus] said there would be deceivers. He said those deceivers would cause Christians who remain true to His teachings to become reviled. He said false prophets would follow to deceive even more, and that lawlessness will abound.

If you ask me, it sounds like the Gaystapo is well on its way. We must fight back against the enemy.
In retrospect, Eschliman wishes he could "have obtained a religious accommodation for my sincerely held religious belief to share my Biblical view with the few family members and friends who read my blog," but it's a bit late for that, since he was fired for "express[ing] an opinion on his personal blog that in no way reflects the opinion of the Newton Daily News of Shaw Media."
[h/t Gawker]
[Image via screenshot/Saturday Night Live]
—
>> Follow Tina Nguyen (@Tina_Nguyen) on Twitter
Have a tip we should know? tips@mediaite.com