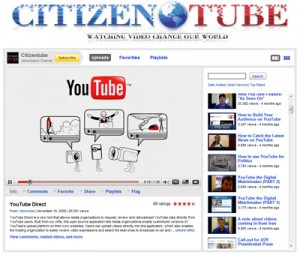 You may remember last January when YouTube's interactive political vlog CitizenTube live-streemed President Obama's State of the Union Address. Following the Address, the site helped coordinate the submission of text and video questions from users, the best of which it delivered to Obama during a live interview the following week. All in all, was a nifty bit of social journalism and it solidified new media's growing place in the world of political reporting.
This summer, YouTube is taking CitizenTube to the next level. The company announced yesterday that it will be teaming up with University of California at Berkeley's Graduate School of Journalism to transform CitizenTube from vlog to citizen journalism news feed.
YouTube has drawn attention to amateur journalism before, most notably during the Iranian election protests last summer. But this summer's news feed project is aimed specifically at highlighting and promoting timely, user-generated video journalism.  From YouTube's blog:
The news feed will provide a stream of breaking news videos on YouTube, with a focus on strong visuals, non-traditional sources and the very latest uploads: videos like this natural gas well explosion in North Texas, this citizen's election fraud investigation in New Jersey, this activist's painful run-in with the sharp end of a fisherman's hook in the Mediterranean sea, or even this run-away elephant in Zurich, Switzerland.
This sort of new media experimentation could provide a fascinating window to view the media's transformation from the talking heads of cable news (and all the drama they afford us) to whatever it's becoming.
Have a tip we should know? tips@mediaite.com