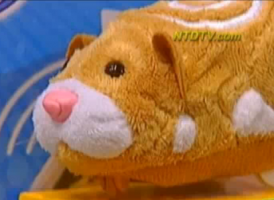 Zhu Zhu Pets: because every holiday season needs a trend story about a toy or electronic that parents get into fistfights over. Last year, it was Elmo Live, and the year before that, it was the Nintendo DS; this time, it's a robotic hamster. And news crews everywhere are thrilled:
From the Baltimore Sun, which devoted a lengthy feature to the Zhu Zhu craze:
For retailers, the toys are a bright spot amid the deep discounting of Black Friday and the recession-clouded holiday shopping season. The National Retail Federation is projecting overall holiday sales to be 1 percent less than 2008, or about $438 billion. That marks only the second decline since the group began tracking sales more than 40 years ago. Last year, as the recession took hold across America, sales slipped more than 3 percent in November and December.

For parents, Zhu Zhu Pets are the Cabbage Patch Kid, Beanie Baby or Tickle Me Elmo of 2009 – the sort-of-cute plaything whose scarcity causes them to throw common sense, dignity and lots of money out the family van window…
…A clerk at one store confided that the rationing policy was instituted after the most recent shipment, when just three people snatched up $800 worth of Zhu Zhu's.
Understandably, news teams everywhere are having a field day with the Zhu Zhu craze. It's even better than the Santa Claus vs. H1N1 battle a week or so back: this one combines trips to the local mall, footage of people waiting outside of and/or stampeding into Toys "R" Us at ungodly hours of the night, and compelling interviews with said stampeders.
Is it possible, though, that the media is puffing this up into something even more outlandish than it would have ever been if it was just a bunch of jingles about hamsters that don't make messes? See the following clips and judge for yourself:
10 Connects News: "They don't poop. They don't die."



CNN Money (?) interviews people waiting in Times Square for Toys "R" Us to open.
NDTV: "Because the hamsters are so popular, a secondary market has appeared on Ebay, where average prices have soared over $20, and even reached into triple figures."



The Zhu Zhu Pets jingle:



Related: Permuto.com has a cool infographic of the most popular children's toys since 1960.
Have a tip we should know? tips@mediaite.com