The MSM (Temporarily) Turns on Elizabeth Warren Over Failed Native American Ancestry Campaign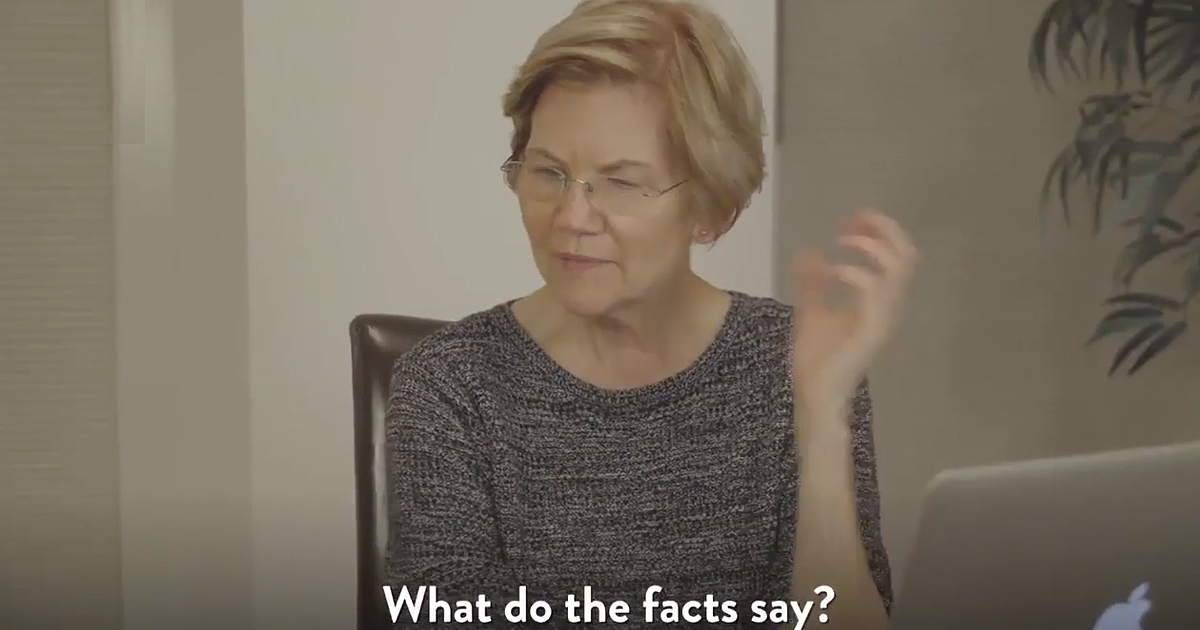 Conservatives some years ago began referring to Sen. Elizabeth Warren (D-MA) as "Fauxcahontas" over her frequently repeated claim that she is of Native American descent. It was a nickname obviously intended to imply her claim was fake. Donald Trump, first as a candidate and later as President, simply called her "Pocahontas", nixing the pun and drawing cries of racism from the left and MSNBC, who consider it pejorative of the ancestry rather than the falsehood.
Trump still uses his version to this day, but perhaps a more appropriate name would be "Faux-PAS-hontas," because as the mainstream media and Native American tribal representatives noted after her disastrous DNA debut on Monday, what Warren did was definitely embarrassing and tactless. And in the view of some critics, it was equal to or worse than Trump's nicknaming.
Take, for example, this tweet, not from a conservative hater, but from ABC News:
NEW: "A DNA test is useless to determine tribal citizenship," Cherokee Nation says in response to Sen. Elizabeth Warren's release of DNA test results. "Senator Warren is undermining tribal interests with her continued claims of tribal heritage." https://t.co/GjGwWQpWtd pic.twitter.com/1soAHvw3Ml

— ABC News (@ABC) October 15, 2018
The screenshot depicts a statement posted on the official website by Cherokee Nation Secretary of State Chuck Hoskin, Jr.:
TAHLEQUAH, Okla. — Cherokee Nation Secretary of State Chuck Hoskin Jr. issued the following statement Monday in response to Senator Elizabeth Warren's DNA test claiming Native Heritage:

"A DNA test is useless to determine tribal citizenship. Current DNA tests do not even distinguish whether a person's ancestors were indigenous to North or South America," Cherokee Nation Secretary of State Chuck Hoskin Jr. said. "Sovereign tribal nations set their own legal requirements for citizenship, and while DNA tests can be used to determine lineage, such as paternity to an individual, it is not evidence for tribal affiliation. Using a DNA test to lay claim to any connection to the Cherokee Nation or any tribal nation, even vaguely, is inappropriate and wrong. It makes a mockery out of DNA tests and its legitimate uses while also dishonoring legitimate tribal governments and their citizens, whose ancestors are well documented and whose heritage is proven. Senator Warren is undermining tribal interests with her continued claims of tribal heritage."
"Inappropriate and wrong." Oops.
It didn't stop at one, though. Here is a tweet not from Fox News or CRTV, but from CNN.
I am a Native American. I have some questions for Elizabeth Warren, writes Simon Moya-Smith for @CNNOpinion. https://t.co/f9Bynwrra4 pic.twitter.com/5X3Qq9Rg0v

— CNN (@CNN) October 16, 2018
That link is to a blistering op-ed – from a CNN contributor who leans Democrat, not Republican – laying into Warren over her big roll-out.
Warren claims now to have Native American heritage. And her claim to having such heritage — versus a claim of actually being Native — feels sneaky to me. Where has she been on these many issues that plague our communities? Although the results from her DNA test are new, her identity claims here aren't. Why has she ignored us for so long? Why only now come around? This latest disclosure lets her save face without having responsibilities to the Native community she's claiming to share heritage with. Furthermore, name me one nation or tribe that claims her. None do.

It's obvious to anyone with eyes in their sockets or brains in their heads: because Warren needs our stamp of approval and our vote as she contemplates a potential presidential run. That's why.
That is truly cutting and, for most politicians, would be utterly devastating to their career. Certainly such a statement about a Republican from any minority group would be at least the end of their being taken seriously on cable news.
It's not only mainstream media exposing how badly Warren messed up, though. Even liberal site Slate got in on the job.
Why so many Native Americans are upset that Elizabeth Warren tried proving her ancestry with DNA: https://t.co/yVcUZSZtCa pic.twitter.com/rrjLLWyH4S

— Slate (@Slate) October 16, 2018
From that article:
While many of President Trump's critics have pointed out that the president has repeatedly used a slur, Pocahontas, to mock Warren's claim to Native American ancestry, some Native Americans have said that both Trump's overt racism and Warren's claims to an indigenous identity should be criticized as harming the national understanding of indigenous identity and rights.
If you don't speak political subtext, here is what makes that paragraph so devastating: they are equating liberal scion and top 2020 contender Elizabeth Warren with Donald damn Trump. What she did is like what he did, they are saying. That's as deep as a liberal publication can cut. There is no greater slam. And they repeated it.
But some considered [Warren's statement about tribal identity] far too late — she had, after all, claimed Native American identity at Harvard Law School in the 1980s, and she listed herself as Cherokee in a local Oklahoma cookbook titled "Pow Wow Chow."

Some have said that Warren crossed a line, after years of holding onto her claim of Native ancestry, but others have said there is still room for her to make amends with the Cherokee people.

Joshua Thompson, an accountant and member of the Cherokee Nation, said that he wants an apology from Warren. What Warren was doing was unequivocally racist, he said—just as Trump's use of slurs is. "I would prevail upon her good senses," he said. "She's a rational, thoughtful, good human being who is doing something that's bad right now. Be better."
(If you aren't familiar with Warren's background, or the cookbook "Pow Wow Chow", National Review's David French has an excellent explainer.)
Kim Tallbear, associate professor and Canada Research Chair in Indigenous Peoples at the University of Alberta made headlines in several publications, including the Washington Times, for her statement, which she released on Twitter.
after too many media inquiries, here is my statement on the #ElizabethWarren DNA testing story. pic.twitter.com/cqD8PQqI0N

— Kim TallBear (@KimTallBear) October 15, 2018
The link in the tweet is to the full statement, but it reads in part:
Whether Elizabeth Warren or Donald Trump or 23andMe's Carlos Bustamante know it or not, they are making settler-colonial claims to our cultural and biological patrimony yet again."
Once again, being put into the basket of deplorables with Trump.
But it's not just online or in print. Aside from the above op-ed, CNN also aired a segment on Jake Tapper's show about the fallout. MSNBC's Craig Melvin mocked the moment on Monday. The View hosts tussled over it on Tuesday. Even Stephen Colbert got a shot in last night (while trying to mostly make it about Trump), when he said Warren's DNA test revealed "with high confidence" that Warren "is running for president."
Naturally, in the long-run the media's minor pushback will fall away and, by 2020, the only story will be about Trump calling her Pocahontas or whether he made a charity donation following the results. (In some cases, it already is.)
But for a progressive liberal Democrat like Elizabeth Warren, yesterday's big DNA reveal could not have gone worse. And judging by the statements, even if the media moves on, Native American community members may not.
In all, a disastrous 2020 roll-out for Warren and a brief, tiny glimpse into what it would be like if Democrats were treated with the same skepticism and subject to the same criticism as Republicans by members of the elite press.
Just don't get used to it.
[Featured image via screengrab]
—
Follow Caleb Howe (@CalebHowe) on Twitter
This is an opinion piece. The views expressed in this article are those of just the author.