Trump Releases Video, Naming and Threatening Former Trump University Students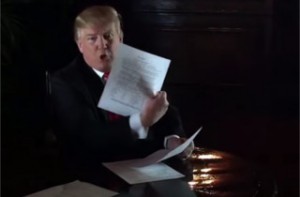 Donald Trump released a video Monday that took aim directly at two of the former students of Trump University currently accusing him of fraud.
In the three-minute video, entitled "Trump University Truth," which was posted to Trump's official YouTube page, Trump reads positive feedback reports from Bob and Kevin and reveals their full names; he also mentions a third alumnus, who he says the campaign is "looking for."
Bob and Kevin had both agreed to appear in ads sponsored by American Future Fund (AFF), a conservative non-profit that has run advertisements advocating against Obama initiatives and in favor of various conservative causes, but lately has taken a hard anti-Trump tack. (Trump attributed the ads to "lightweight Marco Rubio.") AFF's recent ads feature the former students discussing the ways in which Trump's "school" sold them a false bill of goods. Their full names had already been published in a Washington Post Fact Checker article published on Feb. 29.
"There's been so much talk by dishonest people about Trump University — or Trump Entrepreneur Initiative," Trump begins, referring to the name he used to re-brand his educational project because it was not actually an accredited university, "and I thought I should set the record straight."

In the video, Trump read the former students' names aloud, showed the names in writing to the camera, and attempted to use their positive feedback forms to debunk the claims they made in the AFF ads. "We have 98 percent of the people that took the courses where they have reports like this where they, for some reason, signed report card at the end, which I think is a great idea and a great thing that they did. But when they are on the stand they will be shown and shown these reports," Trump said in his video.
The positive feedback forms touted by Trump in the video do not discredit the claims. The surveys refer only to a "seminar" rather than the entire suite of services, but based on the AFF videos both Bob and Kevin ended up buying far more than the initial teaser. "I spent about $30,000 at Trump University and basically all it did was ruin my credit and ruin my life," Kevin said.
The Post, describing the tactics gleaned from the University's playbook, writes:
People were invited to a free introductory course, at which various tidbits of real estate secrets were offered, with the express goal of getting people to sign up for a three-day seminar costing $1,495.
[…] Then, at the three-day seminar, the hook was set for a purported year-long mentorship program costing $35,000 (supposedly discounted from $49,000). That then led to even more sales pitches for even more products, such as a $3,500 bus tour of real estate properties.
The Post notes further that "the '98 percent' approval claim generally is based on surveys after the free presentation. They were not anonymous, and people were encouraged to give positive ratings in hopes of receiving program discounts or a certificate of completion. It is not a credible figure."
Trump ends the video by asserting that he will take the case all the way to court — drawing a comparison between his own resolution not to settle and his intention not to allow the United States to settle. "The United States should fight back also," he said. "We shouldn't just be settlers, we should fight back."
Huffington Post writes: "The new Trump video sends a message to anyone else who may consider speaking out against the businessman or his shady endeavors: He will not hesitate to name you and tacitly encourage his millions of Twitter followers to find you."
[h/t Huffington Post]
This is an opinion piece. The views expressed in this article are those of just the author.