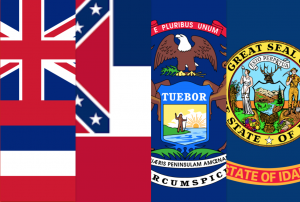 On Tuesday the attention for the 2016 election shifts to the next phase, as both the Democratic and Republican parties hold voting conventions in some key primary and caucus states. The Republican race is heating up as the unexpected frontrunner Donald Trump continues his march to the party nomination sitting on 384 delegates, with Texas Senator Ted Cruz tailing him in the delegate count with 300. Florida Senator Marco Rubio holds 151 delegates, while Ohio Governor John Kasich trails the pack with 37. On the Democratic side, former Secretary of State Hillary Clinton has 1,130 delegates compared to Vermont Senator Bernie Sanders' 499, with four key states set to head to the polls Tuesday.
The GOP will hold caucuses in Hawaii with accounts for 19 delegates as well as the state-wide primary in Idaho and its 32 delegates, and both parties will battle it out in Mississippi as well, which is good for 40 delegates.
But the big state in play for both parties, which has been the subject of increased focused for every remaining candidates, is Michigan and its 59 delegates. The GOP field held its most recent debate on Fox News from Detroit on Thursday, while Clinton and Sanders debated on CNN in Flint Sunday night followed by a nationally televised Town Hall on Monday in Detroit as well. Michigan has long been seen as the most pivotal of Tuesday's matchups, and will serve as the focus for cable news coverage throughout the evening.
All of the main cable news networks will carry coverage from Tuesday's primary and caucus conventions, on the day on the political calendar widely deemed "Super Tuesday 2".
FOX News Channel will provide special live coverage of the primary races in Michigan, Mississippi and Idaho as well as the caucuses in Hawaii on Tuesday, March 8th. FNC's Bret Baier and Megyn Kelly will co-anchor America's Election Headquarters from 7:59-11PM/ET and break down the results during those hours. Joining the evening's coverage will be Bill Hemmer on the Bill-board and Martha MacCallum, who will analyze the exit poll data. Additionally, FNC's Ed Henry, Carl Cameron, Peter Doocy, John Roberts, James Rosen, Jonathan Serrie, Mike Emanuel, Casey Stegall and Dan Springer will report from select states and provide updates with the latest on the ground.
CNN will broadcast American's Choice 2016: Super Tuesday 2 beginning at 9 a.m. ET with continuing coverage in the evening until 2 a.m. ET.
On MSNBC, Morning Joe will air up until 9 a.m. ET followed immediately by The Place for Politics. Network anchors and personalities will deliver primary and caucus results throughout the night with reaction and analysis.
FOX Business Network will present special coverage of the primary results in Michigan and Mississippi on Tuesday, March 8th. Starting at 7PM/ET, Lou Dobbs will kick off the live reporting with a special edition of Lou Dobbs Tonight. FBN's Neil Cavuto will take over at 7:58PM/ET to host a special edition of Cavuto: Coast to Coast with coverage and analysis as the results come in.
— —
Watch live results below (when available), via ABC News:

ABC Breaking News | Latest News Videos
Watch live results below (when available), via NBC News:
Have a tip we should know? [email protected]