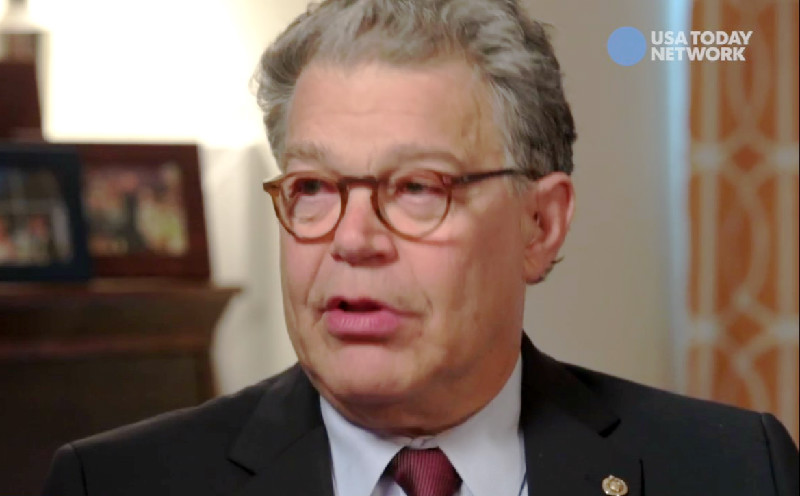 Yet another woman has come forward with allegations of sexual misconduct from former Sen. Al Franken.
In the cover story for New York Magazine this week, the unnamed woman claimed to have been groped by Franken in 2006.
"I was just out of college in my first job, working for U.S. Senator Patty Murray," the woman claimed, alleging, like many other Franken accusers, that while taking a photograph with the former senator, "he puts his hand on my ass."
"He's telling the photographer, 'Take another one. I think I blinked. Take another one.' And I'm just frozen. It's so violating. And then he gives me a little squeeze on my buttock, and I am bright red," she recalled. "I don't say anything at the time, but I felt deeply, deeply uncomfortable."
The woman further alleged that for a long time she was too scared to say anything and that the incident "rocked my confidence … This created a moment of reflection on like, Who the hell do you think you are? There is something that tells men that they, particularly those who have a lot of power, that they have access to my body in some way that is based on the hierarchy of the organization that we're working in or society or whatever it is."
As reported by New York Magazine, the unnamed accuser "is the ninth woman to accuse Franken of inappropriate conduct and the fourth to say Franken grabbed her butt."
In a statement to New York Magazine, Franken declared, "Two years ago, I would have sworn that I'd never done anything to make anyone feel uncomfortable, but it's clear that I must have been doing something. As I've said before, I feel terrible that anyone came away from an interaction with me feeling bad."
Following a number of sexual assault allegations, Franken resigned from the Senate in January 2018.
Some senators have since expressed regret over their support for his resignation, however, with Sen. Patrick Leahy (D-VT) describing his part in Franken's downfall as "one of the biggest mistakes I've made."
Last year, television host Bill Maher also called for the return of Franken, claiming it "would be a great idea if Al Franken got back in the game."
"Are Democrats really going to permanently send away one of our ablest warriors for being a waist grabber?" Maher remarked, before adding that "being touchy feely" is "part of the job."
Earlier this year, 2020 presidential candidate Sen. Kirsten Gillibrand (D-NY) also commented, "we are all concerned about Senator Franken and frankly we all miss him."
Have a tip we should know? tips@mediaite.com