'This is a F*cking Farce': Reporters Gobsmacked By Candace Owens' Appearance at House Hearing on White Nationalism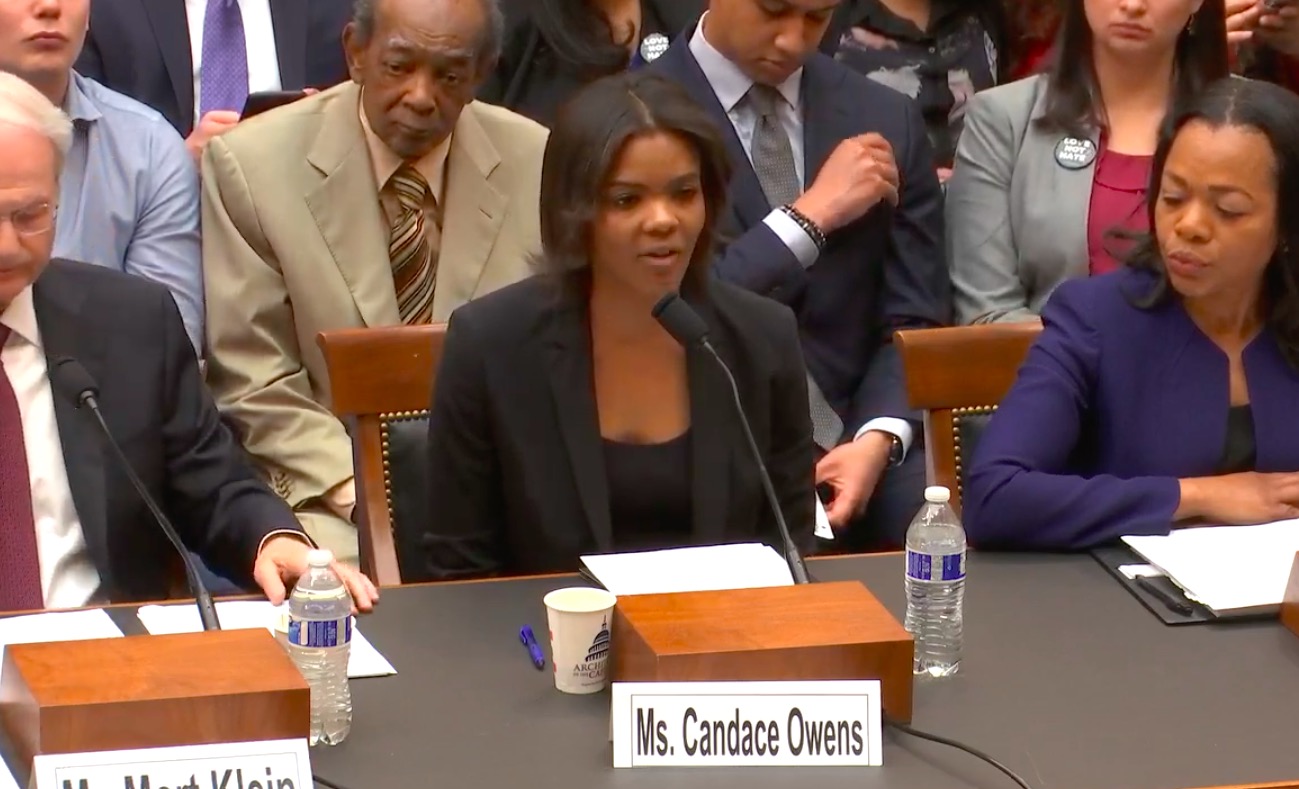 Candace Owens, the communications director for TPUSA, appeared before the House Judiciary Committee on Tuesday morning for a hearing on hate crimes and white nationalism.
Owens has had a winding road to testifying before the House about extremism. Just a few years ago, she ran an anti-Trump website that floated conspiracy theories about the size of Trump's penis. Then she took a right turn, straight onto the set of InfoWars. Somehow, she parlayed that insanity into regular appearances on Fox News. Then she defended Hitler's nationalism. Now she's testifying before the House.
Her appearance was bizarre: she said it should be focused on antifa instead of white nationalism, and claimed the Southern strategy is a myth. Journalists and politicians on Twitter questioned why the conservative provocateur was invited — alongside veritable experts in hate crimes and extremism — to a hearing ostensibly held to productively address those topics.
What a fucking farce

— Christopher Mathias (@letsgomathias) April 9, 2019
And now Candace Owens is going full Dinesh D'Souza, calling the terror of the KKK a phenomenon of the left https://t.co/vvtWfrkxvv

— Christopher Mathias (@letsgomathias) April 9, 2019
Now Candace Owens said the House hearing on white nationalism should actually be focused on antifa. a;lsdkfjsdlkfjlsdkfjsdklf

— Christopher Mathias (@letsgomathias) April 9, 2019
Now the House hearing on white nationalism has devolved into witness Candace Owen talking about "Blexit," her campaign to get black Americans to leave the Democratic party.

— Christopher Mathias (@letsgomathias) April 9, 2019
Hard to express how wildly disingenuous Candace Owens' testimony is. It is a Stephen Miller Special.

— Ben Collins (@oneunderscore__) April 9, 2019
it's an insult to have candace owens at the same table as this man https://t.co/ebuRsReMoM

— Ashley Feinberg (@ashleyfeinberg) April 9, 2019
As Candace Owens testifies in front of Congress, I'll repost this thread in which I showed her "Blexit" site was filled with distortions and fake quotes. (Her response to this, by the way, was to block me immediately.) https://t.co/edyqhtPrUp

— Kevin M. Kruse (@KevinMKruse) April 9, 2019
Candace Owens calls white supremacy/white nationalism "words that once held real meaning are now nothing more than an election strategy."

Perhaps the families of Heather Heyer, New Zealand Muslims, Pittsburgh Jewish communities & plenty of others non politicians would disagree

— Rowaida Abdelaziz (@Rowaida_Abdel) April 9, 2019
It's so surreal seeing Candace Owens on this panel. Less than two years ago, she was complaining about "Globalism" and George Soros, as a regular on InfoWars. Now she's an expert witness at a congressional hearing on extremism. https://t.co/QheEcW7NQp

— Brandy Zadrozny (@BrandyZadrozny) April 9, 2019
Candace Owens at the mic at the House hearing. Her message is, no surprise, that Democrats are the real racists and want to sow division, including "the tall hating the short."

— Will Sommer (@willsommer) April 9, 2019
In Congressional hearings, the minority party gets to select its own witnesses. The @GOP picked Candace Owens to testify in @HouseJudiciary hearing later this morning. This is what she has said:

"If Hitler just wanted to make Germany great and have things run well, okay fine." https://t.co/CwtLW1NDWg

— Ted Lieu (@tedlieu) April 9, 2019
Have a tip we should know? tips@mediaite.com