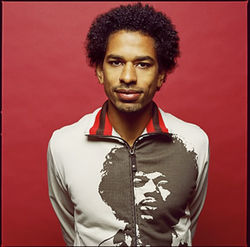 Touré is a journalist, author and cultural critic. He is also an MSNBC contributor, appearing regularly on Dylan Ratigan's Morning Meeting and other shows. Whether it's music, pop culture or politics, Touré never shies away from weighing in on the debate. For 140-character thoughts, you can check his Twitter feed, and his opinions on Entourage have already been seen here on Mediaite. We asked Touré for his 5QQ (Five Quick Questions) take:
1. How do you get your first news of the day?
The first news of my day arrives old school: usually I'm awakened around 6 or 7 by one of my two kids laughing or babbling or crying. The headline is either I'm awake let's play or I need to eat right away. In terms of traditional news, once little people have begun eating, I go to the Mac and look at HuffPo then read NYT.
2. Either, Or (you gotta pick one!): Beatles or Rolling Stones, Tupac or Biggie, Blackberry of iPhone?
The Beatles, especially later Beatles. Big no doubt (Brooklyn, baby!). Blackberry for emailing, iPhone for calls and web. I have both and wish one would dominate the other in everything but it never happens. But I can type on my blackberry without looking so if I had to choose, bb.
3. What's the biggest story the media has missed this year? (Or last week):
There's a group of Black men in Cambridge who've had difficult interactions with Sgt. Crowley to the point where he has a bad rep. I heard about them and talked to one older Black man who said Crowley almost arrested him and lied at the scene (then told the truth when they went to court). The man said Crowley has a rep but I couldn't find enough people to corroborate to make a meal out of it.
4. Obligatory Twitter Question: Describe yourself in 140 characters or less (hash tag optional!).
Dad, husband, writer, thinker, irrepressible force of nature.
5. Are you nervous or excited about the future of Journalism? Why?
I'm nervous. Young journalists Twitter me and say I just got a j degree what should I do and I say think about what other fields will make you happy. Unless being broke will make you happy. I'd feel guilty telling them come inside, everything's fine, as I stand in the doorway of a house that's on fire, flames everywhere behind me.
Have a tip we should know? tips@mediaite.com