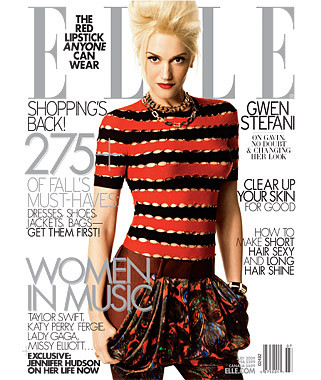 The ad sales team at Hachette-Filipacchi's offices were likely high-fiving each other as Forbes writer Lauren Streib reported – nay trumpeted – the historic moment in the still-lucrative-for-now Women's Fashion category in magazine publishing:
For the first time in its 24-year American history, women's lifestyle magazine Elle banked more advertising pages than elite competitor Vogue in the first half of the year. The most recent six issues of the Robbie Myers-led publication held 970 advertising pages, a 22% decline year-to-year, compared to Vogue's 956 pages, a 32% decline. Time Warner's InStyle remains the leader in pages in the group, posting 1,151 year-to-date. The entire category is off by an average of 25%.
And while is true that Robbie Meyers has overseen a remarkable turnaround in the last couple of years –  some insider's give credit to the work of Creative Director Joe Zee (who replaced top fashion photographer and reality show staple Gille Bensimon).  Also, genius product placement on broadcast television hasn't exactly hurt the Elle brand: Meyers and Zee had cameo's on ABC's Ugly Betty; former fashion editor Nina Garcia is a star of Project Runway; and the lesser-watched Stylista is a competitive reality show ostensibly set in the Elle's NY offices (or studio's made to look like what a hot International Fashion mag's office should be). All of which, plus "smarter-than-it-needs-to-be" edit helped claim Elle's new found place in the women's fashion category.
But what's most remarkable about the Forbes piece was the stunning lack of mention of overall revenue. It is true that Elle sold more ad pages, but the far more important figure is the amount of revenue actually received for each page. Further, Streib cites an increase of subscriptions for Elle, without also mentioning that they've slashed their subscription price in half over the past few years.
Not to rain on the Elle parade — they deserve much praise for a dramatic increase in ad sales in a douer market decline. However, the article as reported in Forbes seems to have come straight from corporate communications department at 1633 Broadway (corporate HQ for Hachette-Filipacchi). Forbes should do better. Maybe they should follow Elle's lead.
Have a tip we should know? [email protected]